UnNews:Jerry Van Dyke, Dick's less successful brother, dies
Jump to navigation
Jump to search
Sunday, January 7, 2018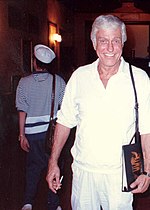 AKANSAS -- UnNews is... uh... I'll be honest, UnNews is meh to learn that Jerry Van Dyke -- star of TV's My Mother, the Car and Coach, and the less successful brother of Dick Van Dyke -- has died at the age of 86.
Always in his brother's shadow -- whether it be The Dick Van Dyke Show or Bye Bye Birdie or his fake accent in Mary Poppins or Diagnosis: Murder -- Jerry starred on the short-lived My Mother, the Car. Unfortunately, he lacked the foresight to make television history, and passed on the roles of Barney Fife and Gilligan. As a consolation prize, though, Jerry guest starred on his brother's eponymous sitcom. Unfortunately, his character's name was Stacey Petrie. Stacey! What kind of parent does that?! That's worse than Sue!

Fortunately, Jerry was able to find success later in his career as assistant coach Luther Van Dam on ABC's 1989—1997 college football sitcom Coach alonside Poltergeist star Craig T. Nelson, future Patrick Star voice Bill Fagerbakke and "Johnny Angel" crooner Shelley Fabares. (Ask your parents.)
Jerry Van Dyke doesn't leave behind much of a legacy, but he was Dick Van Dyke's brother, I'll give him that. Honestly, if this were Dick, we at UnNews would be a hell of a lot more shocked, saddened and passionate. Not to give the Reaper any ideas. I would like ONE YEAR that doesn't suck. One that isn't littered with celebrity deaths.
Oh, well. At least Coach was kinda funny, and had a memorable theme song.
Jerry McCord Van Dyke
July 27, 1931 — January 6, 2018
Sources
[
edit
]
See also
[
edit
]