UnNews:God vs. godly?
Jump to navigation
Jump to search
10 September 2010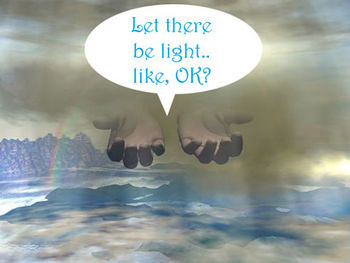 TEL AVIV, Israel -- When God said, "let there be light", little did he realize the fight it would start one day in the Holy Land - the fight over day and night.
Sunday Israel will switch to day beginning at Noon, rather than Sunrise; it has nothing to do with common sense and also has nothing to do with religion.
By law Israel switches to Daylight Noon Time (DNT) on the Sunday before Yom Kippur (Day of Atonement) in which Jews are required to flagellate themselves from sunrise to sunset. Switching to Daylight Noon Time makes the flagellation easier since those who flagellate get to sleep an extra seven hours.
This has always upset the secular Jews in Israel, but this year with Yom Kippur falling almost one year early on the calendar the resentment runs deeper. This year some secular Jews began a petition collecting over 100,000 signatures in just a few hours. They want to keep Daylight Sunrise Time (DST) --- and their arguments go way beyond letting "there be light":
The switch to DNT will cost millions of dollars to the Israeli economy as people work shorter hours and production goes down.
It will increase the chances of unwanted pregnancies because most shagging is done officially at night.
Studies show it will shorten quality time parents spend with their children as no time is left for preschool activities, such as getting the kids ready for school.
DNT also means that Midnight is Sunset, which is highly confusing, because there is no flagellation permitted after dark.
Knesset Member Nitzan Horowitz also joined the call and he is now submitting a bill to cancel Daylight Noon Time and stick to Daylight Sunrise Time as Europe and America and most of Asia do.
Reacting to the public lightning storm interior Minister Eli Yishai, from the religious party Shas, said that he would consider moving back to Daylight Sunrise Time after the Yom Kippur flagellations, but officials in his ministry quickly clarified that there will be no double time switch, at least not this year.
Religious people call the pressure on Daylight Noon Time "a provocation" by seculars. While the seculars remind the religious that God did not mean for day to start at Noon, playing with the clock also might not be in keeping with the idea of "masochism" which is what flagellation is all about.
So is there any daylight at the end of the tunnel? Not this year; with the change just a week a week away it appears the most religious, rather than god, will decide when there is daylight.
Sources