UnNews:GOD! to Judge Western Leaders. Smiting Imminent
Jump to navigation
Jump to search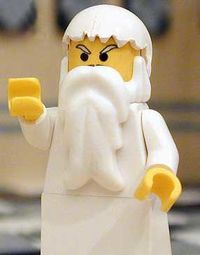 March 3, 2006
In News just reaching us, we have heard that a decision is expected later today as a number of leading Deities sit in judgement of Western Leaders.
The accused, including George Bush and Tony Blair, have been taken to court by GOD! following a number of defamatory comments made against him/her. George Bush is facing Smiting if found guilty, charged with a number of libellous and slanderous comments, specifically claiming to be on a "mission from GOD!".
GOD! was able to provide a clear alibi for his actions at the time that Mr Bush claims that he was "speaking to me".
"I am only asking that they take responsibilty for their own actions. Blaming me is unfair, I have enough problems with hurricanes and bird flu." - GOD!
Tony Blair faces 47 counts of Libel against GOD! which in the more liberal UK merely carries the sentence of beheading or eternal damnation. His Lawyer denies any wrongdoing, stating that his client sticks by his comments. The case is expected to be concluded within the next twenty-four hours.
External Links
[
edit
]
Judgement Made By GOD! - Sky News: [[1]]