UnNews:French Women Ditch Clothes and Wear The Censored Sign Only
Jump to navigation
Jump to search
16 June 2009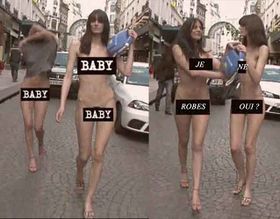 PARIS, Gaul -- French women have decided to go 'Sans Habillement' (Without Clothes) and to instead wear a black masking block over their breasts and genital region.
This challenge to public taste and decency started off in the exclusive Avenue Montaigne in Paris when Barbarella 'Baby' Bouger denounced the high price of clothes and stripped off in protest. She then stormed down the street with just a boom box to listen to.
However even in Paris you cannot walk around naked , so Bouger resorted to wearing black masking tape to cover up her essentials. She then stopped briefly to speak to startled onlookers.
I rather go naked then wear those expensive clothes. This is an economically bad time for France and yet our fashion designers want to make us pay through the nose for a tiny piece of fabric. Well I am saying Non ! and I have many supporters.
The protest has so far seen a number of women marching down various streets with just a few strategic 'Censures' to cover their blushes - the French women are very lassiez faire when it comes to clothing anyway.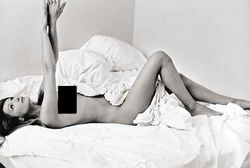 Now the French President's wife has joined in the protests and has agreed to lie naked in bed all day. Carla Sarkozy agrees that spending a lot of money on clothing is a 'waste of resources' but that also it is up to her support the important French fashion business.
I will protest for one day and then go back to my other job of wearing Chanel outfits when I meet important people. I say to the women of France - Protest Today but tomorrow will be another day. Tout alors mon amis !