UnNews:Chris Benoit wins home match against his family
Jump to navigation
Jump to search
29 June 2007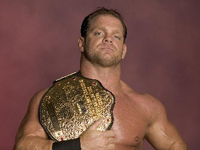 Stamford, CT In a stunning development that rocked the Pro Wrestling world, Chris Benoit achieved an inspiring win in the first ever home match, against his own family. While the result was controversial, as both Benoit's family and Benoit were killed during the match, most commentators agreed that this was still a super example of awesome wrestling action.
The way a home-match works is that unlike a normal match, televised in a ring, the match takes place in the wrestler's own home, is not televised, and involves the wrestler attempting to defeat his own family. The excitement comes from the fact that losing the match would mean the ultimate humiliation known to exist in wrestledom.
The match is believed by authorities to have started with Mr. Benoit's wife. We can only surmise the awesome moves and dramatic plot twists that occurred. Commentators complained that the match was uneven, and that Mr. Benoit's son should have been allowed to have been Ms. Benoit's tag team partner in a two on one battle-royale. Unfortunately as sometimes happens in the wrestling world, Ms. Benoit lost the match and was apparently accidentally killed, but the show must go on.
Next up was Mr. Benoit's seven year old son. Commentators complained even more. "Come on, give me a break." said one angry fan about the mismatched match. "If the kid wins you gotta know this crap is fake." So anyway, as you all know, the son was defeated and in an unusual twist, accidentally killed also. This is the first time in wrestling history that two people are known to have been killed in the same match.
After his victory, and getting his awesome shiny belt for defeating his own family, Mr. Benoit is believed by authorities to have decided to celebrate his win by working out. Unfortunately, in doing so he accidentally got his neck caught in the weight line of his machine, and ended up accidentally defeating himself. "In all my years of commentating, I have NEVER seen anything like this before!!!" said commentator Bill Spitzman. Wrestling fans, while saddened by these accidental deaths, stay devoted to their passion, and hope for more of these exciting "home" matches in the future.
Sources
[
edit
]