UnNews
:
Brick, New Jersey SWAT team bored to death
Jump to navigation
Jump to search
| | |
| --- | --- |
| | This article is part of UnNews, your source for up-to-the-picosecond misinformation. |
22 April 2011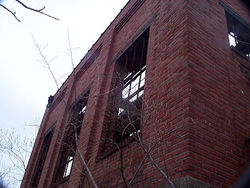 BRICK, New Jersey -- The 752 citizens of this normally quiet town woke yesterday to shocking news: All six members of the local SWAT team were found dead in their headquarters. According to the local coroner, there were no signs of foul play and it appears they simply died of boredom.
Brick, a small haven which is famous as "America's safest town," has not had a single crime in over 93 years. The town's law-abiding residents are all in a state of shock this morning at the sudden loss of the officers.
The coroners' initial report stated that, from the condition in which the corpses were found, it appears they may have died at least 16-17 years prior. "They were only skeletons," the coroner said. "Nobody noticed they were missing. They were discovered accidentally when workers went to dismantle the old building."
Mayor Scott Morgan told the media, "Brick Township always has fared well in the Safest City rankings. For the last 93 years, it has ranked Number One among safe U.S. cities. Our safety record is impressive, with no murders or rapes reported; not even a parking ticket." Brick also boasts the lowest overall violent crime and robbery rates among cities across the nation, at zero.
"I can't remember the last time there was a crime here," Morgan told CNN. "That was way before I was born. And I don't know why we even had a SWAT team, because we don't have a police department. Hell, we don't even have a traffic warden," said Morgan, shaking his head in wonder.
The bones of the deceased officers were sent to Washington, D.C. to determine if they had been drinking or were otherwise negligent or derelict in performing their duties. "The truth is, they seem to have died of boredom. Just as everyone here does." Morgan sighed.