UnNews:Bernie endorses Biden, who is seen clawing at air and drooling after instinctively sensing pussy
Jump to navigation
Jump to search
Wednesday, April 8, 2020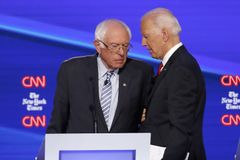 Joe Biden's caretakers were shocked at the scene of a half-dazed former VP, impotently humping the wall and sniffing the air at the news of Bernie Sanders' endorsement. Campaign surrogates stress that this is an involuntary response to Joe Biden sensing a fresh pussy nearby, brought on by years of Pavlovian conditioning, and that Biden is thankful for his support.
In a televised broadcast to his supporters, Bernie Sanders called Joe Biden a "decent man", vowing to support his campaign to defeat Trump. In response, Joe Biden began furiously thrusting the floor of his Delaware basement, after sensing feelings of surrender and submission.
With Sanders out of the race, Biden has become the presumptive Democratic nominee. Biden campaign surrogates have stressed the need for the entire Democratic base to come together and consolidate their support for Biden. "The last thing anyone wants," said CPAC President Neera Tanden, "Is for a senile old rapist to occupy the White House."
Related news
[
edit
]