Indian Head Test Pattern: The Complete First Season
Jump to navigation
Jump to search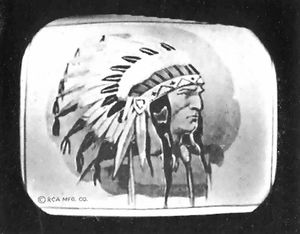 Indian Head Test Pattern: The Complete First Season is a DVD box Set released by RCA[2] on Smarch 13, 2007. It contains all 365 episodes of the 1939 season[3] of the award winning animated TV series, Indian Head Test Pattern.
Contents
[
edit
]
This collection contains every episode from Chief WXYY's[4] introduction through the first half of the "Give a Hoot, Don't Pollute" arc.
Since there were so many episodes in this release, only stand-alone episodes will be listed by title
| Episode # | Title | Characters Introduced |
| --- | --- | --- |
| 000 | Chief WXYY's New Gig (Pilot) | Chief WXYY |
| 072 | Chief WXYY and the "Competitive Sitting on Your Ass While Watching T.V." Competition[5] | "Heart Attack" Bill |
| 263 | Chief WXYY's Kick-Ass Photograph[6] | Cody Krome |
Story Arcs
| Arc # | Arc Description | Characters Introduced |
| --- | --- | --- |
| 001 | Chief WXYY falls in love with, and eventually marries, a woman he met at a strip club.[7] | Chiefette |
| 002 | The chief from the rival Moingona[8] tribe makes several meaningless cameos. | Chief DCBB |
| 003 | The Chief and his wife conceive[9] their only son, John "Redcorn" WXYY. | John WYXX[10] |
| 004 | Chief WXYY finds a garbage pile in his mansion. This is the first half of the Give a Hoot, Don't Pollute arc that concluded in the second season. | The Garbage Patch Kids |
Indian Head Test Pattern got an Emmy for Outstanding Animated Series, even though the Emmy Awards didn't exist until 1949. It was noted to be the first animated kids' show, although by 1958, it became more adult content, a move that some fans still haven't ultimately forgiven[11]. The adult content version of the show featured crude, kid-unfriendly color bars, of different colors.
The sales of this DVD exceeded expectations[12] and a feature film is presently in the works. The second season is expected to be released on DVD in color.[13]
Chief WXYY Says:
[
edit
]
External links
[
edit
]