I'm a Celebrity...Get Me Out of Here! (UK TV series)
Jump to navigation
Jump to search
| | |
| --- | --- |
| | This article may be Overly British |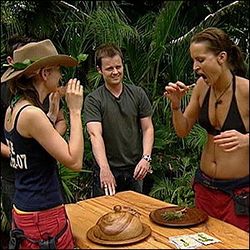 "We're better than this!"
"Who is that?"
"I want you!"
I'm a Celebrity, Really, I Am!, also known as I'm Not a Celebrity, I Shouldn't Really Be Here in the First Place, But How Else Am I Going to Stay on TV? is an Oscar-nominated British television show in which ageing celebrities compete to win the telephone votes of the proletarian audience. The show takes place in a large greenhouse and is hosted by two Geordies who periodically beat the contestants senseless. During the series, contestants must complete simple tasks to earn rations of celery, the staple diet of the convict-infested desert of Australia. Given that their combined IQ is often less than 70, this provides both difficult and hilarious.
Celebrities who appear on the show are paid a fee to compensate for any lack of earnings they may experience. In reality, the fee corresponds exactly to the level of unemployment benefits they lose. This was particularly large for Kerry Katona, who has famously built her career on taxpayer money. Viewers vote for which celebrity they most hate by pressing the red button or by texting abusive messages to the show's producers. The celebrity with the fewest votes is crowned the King or Queen of the Z-list. After the show, contestants return to the black hole of obscurity where they belong. Eventually their death will be marked by absolutely nothing significant.
Contestants
[
edit
]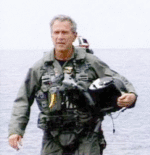 In order to qualify for appearing on the show, celebrities must be completely washed out and incapable of being any use to society whatsoever. Luckily, Britain is full of such people. Commonly, contestants are paedophiles who used to be on children's TV, or the wives of better-known celebrities. Producers impose a strict "NO MUSLIMS" rule, since they fear the copious amount of firewood available could be used to fashion a bomb.
Winners of the show include:
Criticism and popularity
[
edit
]
'I'm a Celebrity' has been criticised for being utterly rubbish, a complete waste of money and an insult to the intelligence of the British public. Even in comparison to other reality shows, 'I'm a Celebrity' scrapes the bottom of an increasingly deep barrel in search of increasingly desperate Z-listers. This process has become known as "former-celebrity-barrel-scraping". The show has also been criticised for giving a second chance to celebrities who don't deserve one. Despite this, the show regularly attracts 15 million viewers, or 100% of Britain's chav population.