Goatseipods
Jump to navigation
Jump to search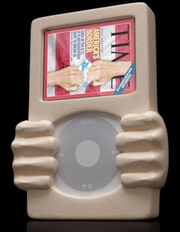 A shock site giving away free ipods in return for
a) ripping your eyes out
b) reffering freinds to look at it too
 Visit http://www.apple.com/goatsex and be dazzled!
 You want to learn more about this infamous marketing scam? (We swear there's no inside-out rectum below...)

Disappointed?
Origins
[
edit
]
The website was launched in 2001 by Apple, Inc., based on a concept Steve Jobs had after reading the philosophies of Goa Tse and Euripides. As a promotion, the company would send out spam e-mails telling folks they could win free iPods. To the readers' disgusts, featured on the front page was an image of a man bent over naked, stretching out his anus. While most were infuriated, many were intrigued by the real offer of free iPods in exchange for completing offers and spamming friends. Thus, the beginning of the world's first Goatzi Scheme.
Love & Hate
[
edit
]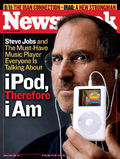 It appeared that launching the site was ingenious advertising, as it became one of the most popular internet memes ever. The sales of iPods sky-rocketed, opening up a whole new cavern of opportunity for Apple.
However, there were millions against the site's very existence. Hundreds of rallies were held to take down the site, most of which were extremely violent. In several cases, music stores were actually burned down. Yet, every one of these grassroots efforts were in vain. It was a gaming company that would give the final blow to Jobs.
Closing It (Down)
[
edit
]
In 2005 Nintendo filed a lawsuit against Apple for placing ads for the GameCube on the website without permission, along with defamation of character for associating the company with vulgarity. Apple attempted to reach a compromise by placing a warning on the top of the page:
Our lawyer has informed us that we need a warning! So.. if you like to play Nintendo games, chances are that you are either too young or too much of a wuss to look at the naked man below without being offended. Thank you, and be sure to shop at iTunes!
Nintendo remained unsatisfied, and pressed even harder. Apple ignored Nintendo's whining and refused to remove the banners out of spite. This act of petty stubbornness persuaded the court to rule in favor of Nintendo. Apple was forced to shut down the site, and for years it remained defunct.
Aftermath
[
edit
]

Despite the original domain being closed, the meme lived on through various mirrors.[1] As of 2007 The Encyclopedia Dramatica Institute owns the rights to all the original anal-stretching photos.
Meanwhile, other businesses have also tried to gain success with Apple's infamous marketing technique. Most notable was Pizza Hut's "Meat-Spin Pizza". The soft drink Sprite hired the original anal-stretcher from the iPod website to star in their "Bottle Guy" ads, in which he exclaimed their well-known slogan, "You can enjoy Sprite in more ways than one!"
In 2019, Apple announced that it will attempt to use similar marketing to sell their newest product, the iPood.
Footnotes
[
edit
]
↑

Most people have to use a mirror to see their asshole, after all.
In memory of Steve Jobs, 1955-2011
There's a huge gaping hole in all of us now.