Cupar
Jump to navigation
Jump to search
Cupar is a metropolis in the centre of upper-middle-west Europe in a little place called Fife. It has the World's biggest Argos Extra - attracting more tourists to the area than Big Ben and Legoland combined. The town also has a branch of Lithuanian megamarkets known as LIDL (short for Lithuanians In Desperate Living).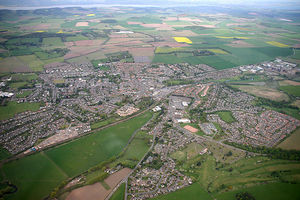 Also, the local Duffus Park (pronounced DOO-FUSS) has been allocated by the Scottish Executive as a local human breeding centre to counteract Scotland's declining birth rate. As this hugely popular policy has grown out of control, Cupar's population is now three times that of the People's Republic of China.
The area is also home to the popular Young Offender Institute Bell Baxter High School. The 'High School' was added to the name to prevent potential housebuyers from being deterred by living in an area full of little cunts. The institute had to recently be rebuilt to accommodate the aforementioned vast population increase. It now has four classrooms and a swimming pool. It also provides extensive rehabilitation programmes in the form of musical groups. The most popular of these is the Fife Fiddlers - whose motto is Fiddleus Meus Senseleus, often sung by the regulars of Duffus Park.
The area is home to multi-Pullitzer winning Mega-Magazine The Cupar Guide 2007-2008, available from any local shop at the attractive price of 'Free' - the value of choice among Cupar-shites.
The population of Cupar make the cast of "deliverance" look like genetic perfection, as Cupar hosts the most in-bred population in Scotland. A man in Cupar could introduce you to his wife and his sister and his grandmother and niece, and he would be speaking of the same woman. Having sex with anyone not closely related to you is a hanging offence in Cupar.
Famous People
[
edit
]
Every week, three lucky people are chosen by lottery at random and blown out of Cupar by cannon to control the population. These tend to be the winners of the local 'Rubber Ducky Race' held in Haugh Park (pronounced Hoedcchdcsbreh-ch Park) held usually in May (though sometimes for extra fun in December when everything is frozen solid). The park was given its name by the many smokers that frequent the park and burn the trees with their Lambert & Butler cigarettes.
Certain little cunts in Cupar like to steal Boats.
Imfamous Tupper family live here.............5 brothers who are all sexual predators and only known by their nicknames ; Rammy Tupper, Fiery Tupper, Shooty Tupper, Sticky Tupper, and last but least Shovey Tupper.......so beware when in Cupar.
Cupar Trivia
[
edit
]
It is a little known fact that Cupar was the filming location for the popular television show The Moomins.
The Kaiser Chiefs recently wrote a song about their time in Cupar. Everyday I Love You Less and Less reached number 1 in every chart in the World ever in existence.
Cupar has a higher than average rate of yellow cars. This worrying development has prompted the United Nations World Health Organisation (known as The WHO - a popular British rock band) to investigate the matter.
A bi annual " Pump yer sister" draw takes place weekly, in which the hat is passed around until you pick your sister. This tradtion first took place in 1756 and is now integral to this years Homecoming Scotland festivities.
External Links
[
edit
]