UnNews:TZOD EXCLUSIVE: Live footage of NYC destruction!
From Uncyclopedia, the content-free encyclopedia
28 March 2009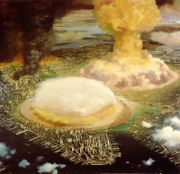 This video report was brought to you live by UnNews.
BROOKLYN, New York -- The city is under attack! After all those disaster movies and terrorisms on this city, you'd think we'd seen it all - but that is nothing compared to what I am witnessing now! This is beyond epic! This is incredible! The Time Zone of Death has invaded New York City!

Hanahana reporting for UnNews, your up-to-the-microsecond news source.

Nobody would have thought this Earth Hour attack would hit us this hard, here in the Land of the Free. And now, millions are in the dark and fighting for their lives. As I speak, King Kong after rampaging through Times Square is now terrorizing the elevated rail riders; with no glaring search lights to deter it, the beast roams free and steals wallets now and again!

Hang on. Word has come that Godzilla could possibly make landfall within the hour, and if this is true, there will be a godly battle seen only once in a lifetime, right here in New York City!

Rod, I have just got word that a colony of giant, nocturnal alien spiders have emerged from the city sewers and are currently eating people! There! Oh my God! To the viewers out there, what you're seeing right now on your screen are man-eating alien spiders crawling down Surf Avenue! Okay, we're going in for a better view...

Amazing...! You! You there laying on the ground with your intestines spilling out, can we have a word? Can you describe the horror that you no doubt must have felt seeing those alien spiders come from the ground and bite you?

"... A- Annie...! I- lo-love.. you...! ...! ..."

Rod, you will not believe your eyes, but is that a tsunami coming in to swallow New York City?! Not only that, but a space craft floating, following right behind the 200-foot wave! Oh my God, it's shooting laser beams!! Get inside! Get inside...!

Seal the doors! Seal the doors! The doors...!! Oh God! Quickly! This way! Oh, God. Rod! Rod, you still there?!

We're inside New York Aquarium now, whose doors as you obviously know are watertight. Sounds of screaming outside as the unidentified flying objects are... demolishing New York into... smithereens...! Oh, the humanity...! I'm sorry, I just... Ugh! Oh, oh, oh... Mama...!

(unintelligible)

This Hanahana reporting to you live from atop the New York aquarium. New York is basically devastated, and this Earth Hour conspiracy... it has gotten stranger than anyone can ever imagine.

The space craft seen following the destructive 200-foot tall tsunami wave appears to be in fact three battle mechas of the Japanese Self Defense Force's battalion. We thought it couldn't be, but there's no mistaking it. And it has brought the Eiffel Tower with it, planted somewhere on 4th Avenue.

We at UnNews don't like to insert speculation in our news reports. Seriously. But if I had to say what I thought right now, I'd have to say that Japan may indeed be involved in this Time Zone of Death consipiracy...

This has been Hanahana reporting you, live from New York.