UnNews:Savile 'had sex with everything'
Thursday 26 June 2014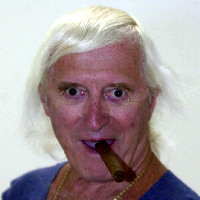 Former TV presenter Jimmy Savile, who has been accused of various acts of paedophilia since his death in 2011, had sex with more different types of people and things than any other human being, a new report suggests.
"It's reductive to call him a paedophile," said Chief Inspector Rowan Barrons. "His victims - which included both males and females - were aged between 5 and 75, and those were just the live ones. We also have evidence that he enjoyed posing and performing sexual acts with corpses.
"Two of Pablo Escobar's hippopotamuses, a flock of geese, a warren of rabbits, an off-duty policeman, two primitive bubble-jet printers, four coffee tables, a mannequin.
"An egg timer, six fishing rods, 106 natural sponges, a defrocked mother superior, 12 bags of chips, 14 pillowcases, 19 PVC jackets.
"And a tablecloth."
The revelations have complicated the case in the eyes of analysts, who initially sought to pigeonhole Savile as a man who abused his position in popular culture to prey specifically on young fans of popular music. Sociologist Joanna Corey told UnNews, "It's a little bit overwhelming, like thinking of William Shakespeare as the greatest writer who ever lived, or Alexander the Great as the most powerful military leader who ever lived.
"We are now in front of the possibility that this was the most depraved sexual predator who ever lived. And he used to present Top of the Pops."
See also
[
edit
]
Sources
[
edit
]