UnNews:London: Thank fuck for that!
10 May 2014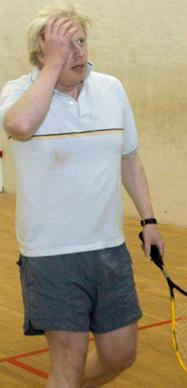 London's mayor Boris Johnson, who is made out of yoghurt and straw, has expressed his relief at the International Olympic Committee's announcement that London will not be asked to step in as the host of the next games.
"Thank fuck for that," said an unseasonably terse Johnson, when confronted with the news. "People started throwing the idea around, and the public got really excited, but the swimming pool has been dismantled and sent to er, [Extended pause redacted] the north, the running track is now part of the Circle Line and, frankly, no one knows where all the poles from the pole vaulting competition are."
Intriguingly, since the announcement, the "excitement" said to be felt by the British public has been brought into question. Joanna Corey, a slum-lord from East London, told UnNews: "It was fun last year [sic]. We really enjoyed, you know, the opening ceremony, and I think Queen did something, and then we won lots of things. There was that black man with the bald head... But no, not again. Enough is enough. I threw away all the flags and bunting when I did the spring cleaning."
While much of London's infrastructure has indeed been dismantled, disposed, recycled or left to rust, the city is considerably closer to being ready to host the games than Rio. IOC President Jasper Bloomqvist last week ridiculed the Brazilian city's plans, pointing out that the swimming pool was no deeper than the average puddle, the proposed marathon route featured some hairy stretches going through the Amazon, and the running track, while pristine, was only half the size it should be.
Joao da Silva, head of the Rio 2016 project, was, however, defiant. "By the time 2016 comes around, everything will be more or less OK!"
Sources
[
edit
]