UnNews:Justice Department names Bob Mueller to special counsel in Russiagate
Thursday, June 22, 2017

"Warning: You are recreating a page that was previously deleted.

You should consider whether it is appropriate to continue editing this page. The deletion and move log for this page are provided here for convenience:

23:44, 20 June 2017 Wageslav (talk | contribs) huffed page UnNews:Justice Department names Bob Mueller to special counsel in Russiagate (lazy copy paste from other news articles, if theonion can mix news and satire so can you)"
Ugh. Seriously??? Mueller should investigate Wageslav for obstruction of justice. This is no laughing matter, never has been. But whatever, I'll try to funny it up to appease you.
_______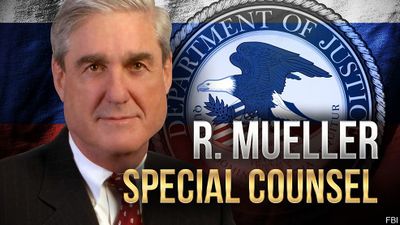 WASHINGTON -- The Department of Justice has named former FBI Director (not named James Comey) Robert Mueller as a Special Counsel in the Trump-Russia investigation that is preventing UnNews articles about it from being funny. Since the initial May 17 announcement, the investigation has certainly heated up -- encompassing the Michael Flynn investigation, a Grand Jury investigation in Virginia, a GJ investigation in [New York]], five golden rings, four calling birds, three French hens, two turtle doves, and a partridge in a pear tree, and now Trump himself may or may not be under investigation for obstruction of justice. But anyway, back to the original report.
Mueller served as FBI Director during 9/11, which he investigated, and actually served two years longer than the standard ten-year term. With permission from Congress, President Obama allowed Mueller to serve twelve years, 2001-2013, before Comey succeeded him. Mueller hopes to "get to the bottom of this, make UnNews funny again, make the world happier, and crush that fucking orange Cheeto once and for all!" he said.
According to The Palmer Report, Mueller actually began working on the case a full week before being officially announced. "We did it this at so we'd be a page or two ahead of Orange Julius," Acting Attorney General Rod Rosenstein, who hired Mueller, said.
What more can we expect from this circus of a scandal? "Maybe the pee tapes, maybe the Comey tapes, and just wait until you get to the part about that leaker named Reality Winner!" Mueller says. "But that's not part of the investigation. Yet."
Sources
[
edit
]