UnNews:E. coli strikes again; United States declares war
22 April 2007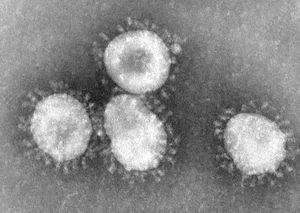 THE UNITED STATES OF AMERICA, Earth — Another outbreak of E. coli in five western states (specifically California, Arizona, Idaho, Oregon and Washington) has prompted the federal government of the United States to cease peace negotiations with E. coli and launch the first ever major military offensive on a microscopic organism, known as Operation Escherichia shortly after declaring war.
"E. coli has proven itself to a belligerent power," said Secretary of State Condoleezza Rice. In September of 2006, E. coli invaded the nation's spinach supply and infected an estimated total of 111 people. In October, E. coli launched a similar attack via lettuce nationwide. Finally, in November and December, E. coli launched several attacks on Taco Bells nationwide, infecting 47.
After sanctioning E. coli and beginning peace talks, many believed E. coli would not strike again. In the most recent attack however, several children fell ill with infection symptoms similar to that of E. coli after eating hamburgers. Similar cases have been reported elsewhere, and the beef that was used in all of the cases thus far has been recalled.
U.S. Army Chief of Staff George William Casey Jr. stated, "E. coli has continuously flaunted his hostility towards America and harbored terrorism. We will not stop until the E. coli threat has been eliminated."
Officials believe that E. coli may be in league with Salmonella, who in February launched a strike on the nation's peanut butter supply by infecting Peter Pan Peanut Butter, causing over 288 cases of confirmed illness and lots and lots of diarrhea. The guerilla-style tactics of both E. coli and salmonella are worrying some citizens, but the armed forces have assured the people that, "We've faced this kind of stuff before...in Vietnam and Iraq."
E. coli released several low-quality video tapes in response to the American government's actions. In it, he declared Americans were "intolerant germaphobes" and "poop eaters". "I live in the intestines of mammals," said E. coli, "So basically, this would all end if Americans would stop going around and eating poop." E. coli also stated that he didn't wish to declare war on the United States, because, "I don't see the point in fighting a bunch of poop eaters."
Those in the medical field have expressed concerns regarding combating E. coli. Kenneth P. Moritsugu, the current United States Surgeon General, noted the risk of antibiotic resistance. "If antibiotics are to be the main weapon used to combat E. coli, then we should be prepared to lose ... E. coli, like many bacteria out there, has the potential to develop resistance against antibiotics. By letting E. coli kill a few Americans every few months rather than fighting it, we avoid creating a strand that will kill us all. Kind of like that book, The Stand, by Stephen King. Except Gary Sinise will probably die too."
Sources
[
edit
]