UnNews:Cypriot government to occupy bedroom in all large houses
22 March 2013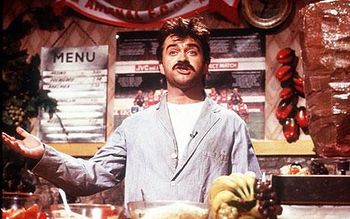 Cyprus insiders have confirmed to UnNews that the government is likely to withdraw its original plan to tax the nation's bank deposits, and will instead occupy one bedroom in all 'large houses'.
Under the proposed legislation, any Cypriot who lives in a house with three or more bedrooms will have to hand over control of one of the rooms to the government. Nicosia hopes that the property acquired through the rent or sale of the rooms can be used in the nation's desperate bid to raise €5bn to part-fund its own bailout and avoid Angela Merkel's evil Germany pulling the plug on the EU's €17bn rescue package.
"You probably read that last sentence and didn't understand it," says Joanna Corey, Professor of Economics at California State University, "You were like, 'Part-fund its own bail-out? What the fuck does that mean?' but that's OK."
"Let's just imagine the EU is a bank, and Cyprus is a shady Greek restaurateur asking for a loan. The bank asks the Greek dude to show that he has a sound business plan for the future, and makes him promise to buy supermarket humus and to stop smashing plates every night. Except the country doesn't have a business plan, and the people breaking the plates are untouchable money launderers, so the government is putting the middle classes' assets up for sale instead, which is like the restaurateur letting the bank manager cop a feel of his wife's boobs. She's the chef or something."
But it's not all doom and gloom. Marios Charalambous, a kebab shop owner from Paphos, is excited about the possibility of a guest occupying his third bedroom, and not just for the money it will bring to his government. "When I am young man, many many English woman come here to Cyprus. For sex. Husband boring so they want sex. I have many many sex with English woman. They like it from, from behind. Cyprus woman no like it from behind. All English woman come to Cyprus!"
Sources
[
edit
]