UnNews:Concern as Snowden adopts Connery accent
23 June 2013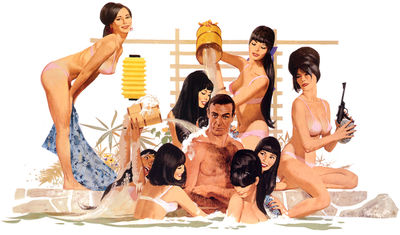 Friends and family of CIA whistleblower Edward Snowden expressed their concern today after reports that the 30 year-old has taken to speaking in a Sean Connery voice.
The revelations emerged last night when Snowden, born in North Carolina, boarded a flight from Hong Kong to Moscow. Fellow American and self-confessed "soulless businessman" James Chambers was on the flight, and immediately sold his story to us.
"I wouldn't have recognised him, but he was wearing a tuxedo with a black bowtie, and he kept asking the cleaners in the airport for vodka martinis."
"I have to say, his Sean Connery impression was pretty good, but he kept having to say, 'I know what she wantsh' every time he spoke, to get himself into character."
At the check-in desk, Snowden asked if he might be sat next to a dangerous but impossibly attractive Russian, and although his request was ostensibly met, he complained during the flight that Oleg, while certainly handsome, was not what he had had in mind.
When the plane arrived in Moscow, Snowden suddenly pushed past other passengers and made a mad dash towards the terminal, ultimately surfacing in the arrivals lounge via the baggage carousel. A heartbroken Oleg. who had admitted to "falling" for the fake-Scotsman, told local reporters, "He seemed very confused. He told me he needed to get to the Berlin Wall."
Sources
[
edit
]