UnNews:Bullies take Prince George's lunch, sceptre
Thursday, September 7, 2017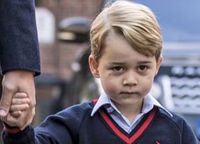 Prince George, the eldest son of Prince William and Kate Middleton and third in line to the British throne, had a torrid first day of school, with bullies taking his lunch and a priceless royal sceptre.
The four-year-old, who is attending an £18,000-a-year school in London, had a run-in with some of the big boys in the playground.
Gregory Myers, who was born in September and so is absolutely massive compared to George, took the Prince's modest royal lunch of spit-roasted boar, quails eggs and whole roasted peacock, as well as his favourite drink of champagne mixed with commoners' tears.
A teacher at the school, who asked to remain nameless, told UnNews: "Obviously we all had our noses pressed to the staffroom window, to see how he was going to get along. At first we were just making jokes at his expense, revelling in the fact that we could call a future king the c-word, and there was nothing he could do about it.
"But then we saw Gregory come over - and actually he is a bit of a c-word - and snatch George's lunchbox. George started crying and my colleague who went over there said he did some wee in his pants.
"Someone said, 'That must be the royal wee', and we all started laughing our arses off."
The day did not get better for George, as when he had to get changed for PE, one of the girls stole a priceless sceptre he had been waving around the classroom while issuing commands. The sceptre, made of gold surmounted by a magnificent diamond-encrusted cross with an emerald in the centre, is worth approximately £40m, and technically the person wielding it rules Lancashire.
Royal expert Joanna Corey had some words of consolation however: "This is a long way from the worst first day of school for a member of the royal family. In 1934, Princess Margaret was so giddy having drunk four virgin Bloody Marys that she shat her pants and had to go home in some boys' trousers that were in Lost Property."
More royal news
[
edit
]
Sources
[
edit
]