Zoe Tay
Jump to navigation
Jump to search
Whoops! Maybe you were looking for Whore?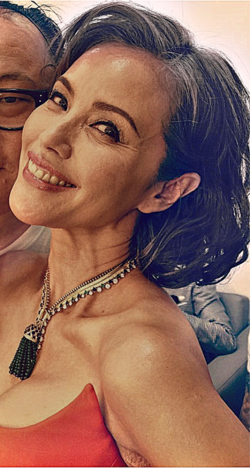 "Zoe who?? No idea... Oh wait, did you just say she swallows?"
"That's HOT, I'd call her grandma."
"Who the hell's Zoe Tay?"
"Is she for real? A celebrity?"
"Ha, that old loser?"
"I'm Best Actress by my own definition!"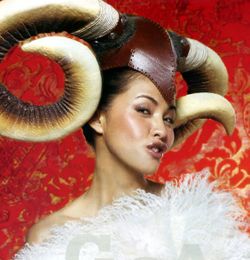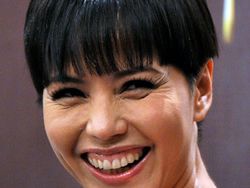 Tay Zoe (老玉) of the House of Mediacorpse, the first of her name, Self Appointed Queen, Old Fossil Dame of TCS, 新传媒の千年老妖, Mother of Wrinkles, Goddess of Crowfeet, Khalessi of Dark Circles, Deplorable 千纹老娘, Indisputable Laoest KwayBu of the Great Island of Singapore, borned : 1858, is a genetically engineered human-ram hybrid, a failed experiment which turned out... wrong.
Yes, that creature on the right.
In 1978, Tay Zoe, a rustic waif from the Yellowing Leaf Village successfully created a name for herself when she took part and won the prestigious "National – Toad Sonata" competition. Her unusual ability to croak brilliantly has earned her numerous accolades and compliments from her fellow villagers. Subsequently, she released an album of her croaks, unfortunately sales were lacklustre. But she did not give up, simply because there were deluded devotees called the Sheople with single digit IQ out there who told her she's unique.
Sheoples were seen behaving in a cult like fashion in a certain hospital located in Buangkok Green. They were heard chanting, "Tay Zoe is the best!" ; "Tay Zoe is Number 1!" ; "Tay Zoe is the undisputed blah blah ..." ; "Tay Zoe is a drag Queen"
No one actually understood what all that ludicrous chants meant, non of which made any motherfucking sense. Of course, no one takes lunatics seriously.
Sheoples = "Sheep + People" (Asexual-cranium-in-rectum-propagation)
The Early Tay Zoe
[
edit
]
Tay Zoe's unexciting rural life took on a substantial change after the competition. As the winner, she walked away with a Fclass Mercedes Benz, twelve pretty dresses from the Bargain Collection of Club 22. And also an exclusive 5 star toilet reserved especially for her at Seasons Hotel. A leopard doesn't change its spots; a materialistic whore doesn't change her ways either. She conscientiously shopped at Club 22 on the first day of each month, without fail she will ask for a few extra paper bags. It's a known fact that this Ebay account selling Club 22 paperbags belonged to her.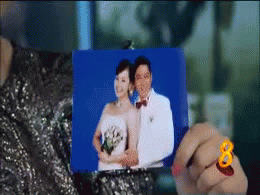 On her 6th trip to the boutique, she met the rich boss of Club 22, being the money (and cock) gobbling whore she was, she wasted no time in earnestly developing an unusual friendship. The adulterous affair went on for another 2 months; tongues were wagging whenever she walked in. She was so in love, with his money and his cock. It was said that she charges US$20 each time. Her lucky streak didn't last as long as she hoped. They were caught in the act by the powerful wife of the rich boss at the boutique's changing room after a tip off by the staff. Tay Zoe was given a few tight slaps across her slutty face and she was forcefully dragged out of the store. On her way out, she was heard screaming, "You still owe me 4 dresses and 20 paper bags!!"
The chambermaids at Seasons Hotel were also gossiping among themselves, saying that Tay Zoe has a dirty habit of "collecting" those free toiletries miniatures whenever she drops by for her daily dump at Season's. It was also mentioned that she uses a whole roll of toilet paper each time, including the core.
Talented Tay Zoe
[
edit
]

Besides croaking like a toad, selling paper bags on Ebay, collecting free toiletries and pouting her thick labia lips. Tay Zoe also has a remarkable talent in music and arts! Her favorite instrument is the trumpet, she is particularly known for blowing skillfully … well, her own trumpet. Now we also know the secrets behind her unmatchable blowjobs, it's due to her gifted musical background.
Tay Zoe's unparallel skill with arts and craft - mask making is also worth a mention here. She owns a little shop in the suburbs call "FACE1001" with a really impressive collection. Tay Zoe wears a different one everyday, earning the nickname "Thousand faces Lady – 1". Although each mask was slightly different, but they all have distinctive features; characteristic lines, deep set wrinkles and crow's feet near the eyes. It's said that Tay Zoe modeled the basic mask based on her reflection in the mirror.
Swallowing Tay Zoe
[
edit
]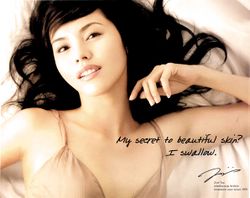 One day, Tay Zoe decides to shock the world by confessing that she swallows. (Not that anyone gave a flying fuck) She went on to describe the gruesome details of her fellating and ass rimming skills. That supposedly gave her beautiful skin, according to her.
Girls, DO NOT even try. Photoshop beauty is always available.
Fake Queen Tay Zoe
[
edit
]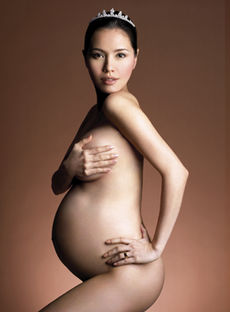 There has been a long time dispute on the spurious royalty status of Tay Zoe. It's believed that only an aristocratic lady holds a blue flower that blooms. Tay Zoe was last seen with her blue flower blooming 50 years ago, rehashed by a younger aryan as seen in this sanitary pad advertisement.
The cheap aura of Tay Zoe suggests that she's a gilded royalty wannabe, a shameless imposter. Upon diagnosis of a case of blue waffles, she was banished and stripped of her title as it was blue waffles discharge and not her blooming blue flower.
Period!
Despite that, there are still a few remaining blind lackeys and eunuchs addressing her as the Queen, faithfully taking sips of pus from her blue waffles.
Empress Wei, another has-been from the state of Johor Bahru is a close ally of Fake Queen Tay Zoe. the 2 of them joined forces and staged war against Princess En, the successor of the throne, also the official face of the House of Mediacorpse. It all happened because of one incident when Princess En failed to curtsy for the self important Tay Zoe.
Princess En, while drunk as usual was chanting, "Mirror Mirror on the wall, who's the driest of them all" while Tay Zoe was looking at her reflection, counting her wrinkles.
Tay Zoe's Walk of Shame
[
edit
]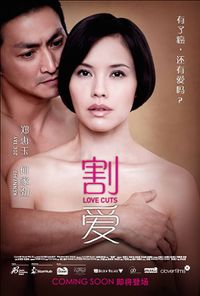 Tay Zoe was so inspired by Queen Cersei's Walk of Shame that she decided to organise one of her very own since she thinks she's a Queen too. She proudly names it "My Slut Walk". Unlike Cersei, Tay Zoe was looking forward to it, she engaged a personal trainer to firm up her saggy bits in preparation for the event, she got pumped daily in every orifice with fresh protein. She wanted to keep her hair long to cover her wrinkles, but she shaved her old pussy for the event.
The walk from Tanglin Orchard to Plaza Singapura took 5 days, she stopped to fondle every cock flashed at her, she just couldn't resist cocks… Cocks … COCKS!!!
Best Actress Tay Zoe
[
edit
]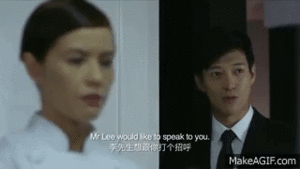 In a freak event 20 years ago, undeserving actress Tay Zoe bagged the Best Actress award in 1995. Weeks and months before the prestigious self-glorifying event called the Star Awards 2016. Tay Zoe was blowing her own trumpet and spreading rumours that she's due for her second Best Actress award and she will get it. However, the council, congress and senate thought otherwise, they unanimously voted against Tay Zoe for her substandard lacklustre performance, rendering her inept for any awards.
The SA2016 trophy named Spastic Wood eventually went to long time loser Old Xuan as hot favourite Princess En was embroiled in some unfortunate intoxication scandal with her horseman in her pumpkin carriage. In her drunken stupor, Princess En was heard screaming. Who's your Daddy!? Do you know who am I? Royalties.. tsk.
Tay Zoe was extremely jealous of all that attention and limelight that everybody else is getting, she was seen posing with fake trophies from Taobao in her heavily photoshopped pictures in Instagram, deluding herself, her fake instagram bots and all that she's still young, bouncy, popular and lovable. Yeah, fuck reality.
Tay Zoe's pets include an intelligent homing bird, Agent Swallows (named after her act) and a domesticated miniature hybrid donkey, she calls him Baby Brayyy. Swallows is based in USA. Every summer, Swallows flies back to Tay Zoe with reports of yearly developments of Project Fann Wong in Hollywood. Tay Zoe is extremely jealous of the achievements of Fann Wong and she plotted her downfall very much in vain. There hasn't been much information about Baby Brayyy except that Tay Zoe breast feeds him personally.
Tay Zoe likes to get on her NASA hot air balloon and feel on top of the world. She has a habit of doing her silly chacha dance while up in the sky. She believes that makes her slim.
Tay Zoe also has a personal vessel, she wittily named it EMPTY because of the minimalist design. Onboard, she brings along Baby Brayy and her trumpet, she goes out to sea whenever she feels neglected and troubled. While in the open sea, she makes a hell of a hullabaloo with her noisy croaks and relentlessly blow her trumpet off tune. But nobody pays much attention to her. There's truth in it that "Empty Vessel Makes the Most Noise"
Music Career
[
edit
]

Ummmm, does anyone really give a fuck?
No seriously, nobody gives any fuck!
Filmography/Pornography
[
edit
]
1909 to 1999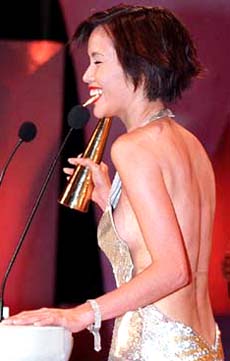 1988: My Favorite Ladyboys
1988: Sexual Encounters II
1989: Panties
1989: MILF 4
1989: Final Climax
1990: Anal Series
1990: Fun Next Door
1991: Cockpit and Poontang
1991: The Last Slag
1991: Pretty Faeces
1992: Labias In Action
1992: Toes of my Camel
1993: Ride My Trollop
1993: Angel of Vaginas
1993: The Jezebel
1993: Horny Hoes
1994: Thunder Thighs
1994: Up Yours, Truly
1994: Skanks In the Dark
1995: Ho, Hoe, Hoes
1995: The Golden Dildo (Best Actress, finally)
1995: Chicks with Dicks
1996: The Jezebel Returns
1996: Interracial Gangbang
1997: My Wife, Your Wife, Their Wives
1997: Rising Erections
1998: Return of the Condom Hoes
1998: The Legend of Cuntwhorefuckslut
1999: Lost Sluts
1999: The Millennium Jizz
2000 to 2100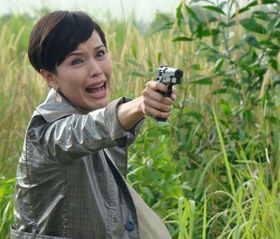 2000: My Filthy Affairs
2000: The Super Minge
2001: My Chameleon Titties
2002: Harlot Miss Zoe
2002: The Jezebel returns again
2003: Boobies Boom
2003: Phua Chee Bye
2004: Forty Men
2004: My Incestrous In-Laws
2006: The Wife's Chesticles
2006: A Million Orgasms
2008: Lao Femme
2008: Rim My Ass
2009: The Strumpet
2010: In the Name of Sex
2011: Penetration
2012: Double Penetration
2013: The Mother Fuckers
2013: Rapist
2015: You can be a Whore
2015: The Mother Fuckers II (Best Actress, keep dreaming)
2016: You can be a Whore too
2017: You can still be a Whore
Movie/Direct to VHS
[
edit
]
1999: Crossdresser Slutty Grandma (Guest appearance as an useless vase)
2001: Treesome (She's the popular tree whom everybody climbs)
2010: Love Cunts ($1 million production $92k box office, 'nuff said)
2013: Mister LittleFinger ("Fuck my asshole" was her only line)
Notable Achievements
[
edit
]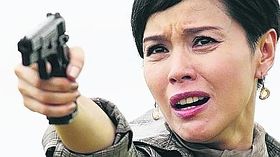 2003 - Youtube Whore of the Year with her daily submissions.
2004 - FHM (Farm Hoe Magazine) rating : No. 2 (First went to Miss Piggy)
2005 - First woman over 40 to make it to the iSwallow series, she's No. 23.
2006 - Official ambassador of the National "No spitting" Campaign. (She swallows)
2007 - Biggest Gangbang with 5000 invites but only 3 attendees, they were looking for urinals.
2008 - Arrested for her attempts to milk a male horse in vain, for headlines sake.
2009 - Counted 285 wrinkles on her face (the right side)
2010 - Boycotted Star Awards, claimed that the show is nothing without her.
2011 - Beg for a Star Awards invite, realised she's nothing without House of Mediacorpse.
2012 - Claimed to be making a movie in Mars, which was never released.
2013 - Held a press conference to show off her first smart phone, her first 2 apps was 美图秀秀 and Instagram.
2014 - Her wax figurine made with donor's ejaculate displayed at House of Condoms
2015 - Took 5 days to complete her Walk of Shame bak My Slut Walk.
2016 - Made herself a second Golden Dildo.
External Links
[
edit
]