Worst 100 Uncyclopedia In-Jokes of All Time/The KTs
Jump to navigation
Jump to search
Not to be confused with The KKs.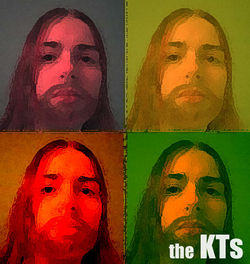 "The KTs look like a load of teenage girls. With beards."
~ Shanda Lear, Rolling Stone
Formed in Liverpool in 1964, the KTs became one of foremost bands of the late 60s and early 70s. The band consisted of four male clones, all called KT, and from that they took their name. Their first release "Please Kill Me" was a major commercial success, going triple-platinum and thrusting the KTs into a permanent place amongst the plethora of 60s giants.
Band Line Up
[
edit
]
The band line up remained constant throughout life of the band, although a number of notable "guest" performers featured on their albums. Kwang Woon Sull
KT Beard - Lead Singer
KT Bear - Lead Guitar
KT Hitler - Bass, Piano
KT Hurricane - Percussion
KT Price - Jugs
KT Boundary - Rock
Discography
[
edit
]
Please Kill Me (1964)
With the KTs (1965)
R Soul (1966)
KT Peppers' Lonely Hearts Club Band (1967)
Where are they now
[
edit
]
KT Beard
[
edit
]
After a successful solo career, KT Beard worked in a number of law enforcement jobs, before taking the step up to the FBI. KT now pursues Paedophiles on Internet Chatgroups and Websites. KT was injured in the line of duty in 2002, but remains active, and is personally responsible for over 500 arrests.
KT Bear
[
edit
]
KT Bear is the only member of the KTs to remain within the music industry, maintaining both a solo career as well as appearing as guest musician on a number of prominent collaborations. In recent years KT Bear has worked with Phil Latio and Elton John.
KT Hitler
[
edit
]
Due to an unfortunate mix up, a young American nutcase shot KT Hitler in 1980 and again in 1981, after mistaking him for the author of Catcher in the Rye. KT Hitler died of complications a few days later, after which a vigil was held.
KT Hurricane
[
edit
]
KT Hurricane died in 1973, in a bizarre throat-warbling accident.