User:ThisIsAShortUsername
Jump to navigation
Jump to search
You've reached the house of Mr. McDestroyertron
Please leave a message after the bleep


SH*T!!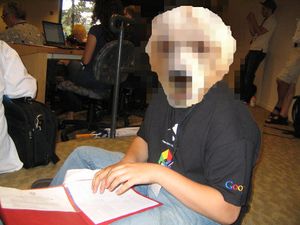 This user is a Master Seaguller
and knows how to hit the spot

THIS USER IS CURRENTLY EDITING AT THE LEVEL OF:
• Oscar Wilde
• An Oscar Wilde clone that daringly escaped the laboratory
• Euroipods' and AAAAAAAAA!'s love child
• A nice glass of white wine given to you by a man wearing a turtleneck sweater in the last days of Spring
• Something sequined
• Somewhere near Mhaille
• When the moon hits your eye like a big pizza pie
• Acceptably sufficient
• Unacceptably anti-sufficient
• Tawdry
• Why did someone let you use the Internet?


• You and Humanity awkwardly avoid each other at dinner parties

• I hate you and everything you stand for--pray that I make your death quick
• An admin for Encyclopedia Dramatica
ThisIsAShortUsername is actually McDestroyertron -- remember that in the future, Kemosabe.