User:Mhaille/GayPal
Jump to navigation
Jump to search

"You'll pay for this pal!"
GayPal is an e-commerce business allowing payments and money transfers to be made through the Internet for the purchasing of designer slacks, personal grooming items, and in the pursuit of fashionable earrings.
Overview
[
edit
]
Primarily the service is built around the superior fashion sense and higher spending power found amongst members of the gay community. It became obvious during the early part of the 21st Century that the aesthetic sensibility inherent within the homosexual community could be utilized to assist even the most unfashionable member of the straight community.
Safety and Protection Policies
[
edit
]
The GayPal Buyer Protection Policy states that customers may file a buyer complaint within 45 days if they did not receive an item or if the item they purchased was significantly not as described, made them look fat, or like a member of 70's Disco sensations The Village People, or otherwise damages their "street cred" in any perceived manner.
Example System Emails
[
edit
]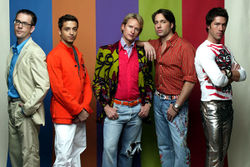 Dear Sir/Madam/Undecided:
This email is not a scam. We need you to login to your GayPal donation fund account as we have detected several purchases from your account for items including corderoy trousers, sandals with socks and tanktops, which is in breach of our rules and regulations and a travesty against mankind.

We hope you can be co-operative with our request at this time. Please click on the IP address website below.
http://scamcity.yourmoney.nigeria
Thank you,
GayPal Admin.