User:FreeMorpheme/arg
Jump to navigation
Jump to search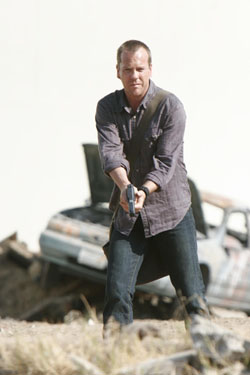 Jack Bauer is kick ass. It is good advice never to be in the same room as Jack Bauer, because he can kill you with anything. A paper clip, a man purse, hell, even the wall itself. We don't know why this happened. He certainly doesn't hope it helps out with the ladies, because any lady that starts to like him gets killed about 25 minutes after the first kiss. And he mustn't think it helps CTU's reputation. Edgar got hired. Jack Bauer is a mystery in many ways.
The Beginning: Birth-1985
[
edit
]
Jack Bauer was born with a gun in his hand. He then shot the doctor.
Jack recieved top grades at school, that is before he was sent to the principal for starting fights and then killed her with a stapler.
Jack's childhood was cut short when people realized that Jack could never really be a child.
The Law
[
edit
]
Jack Bauer does a lot for the United States government, but he never seems to get any cred for it because they don't want to be associated with him. That's why Jack has taken on a new alias. "The Law." Any time you get shot, it's Jack Bauer. Any time you get a parking ticket or a library fee, it's Jack Bauer. Who's that listening in on your phone conversations? Yep. It's Jack Bauer.
Undercover as a pacifist
[
edit
]
For a short time near the end of a 20 day terrorist siege of The White House, Jack infiltrated a group of pacifists in order to reveal the identity of another CTU mole hell-bent on resolving things in a lengthy and non-violent manner. Being awake for 18 seasons took its toll on Bauer however, and he blew his cover when he accidentely tortured the leader of the gang for directions to the toilet.
During the debriefing with CTU director Bill Buchanon Jr, Jack is allegedly quoted as saying "DAMMIT BILL, I HADN'T PISSED IN OVER TWO WEEKS, THERE WASN'T ENOUGH TIME!"
Jack Bauer Quotes and Moves From the Jack Bauer Playbook
[
edit
]
"DAMMIT AUDREY!!"
"IT WAS ABOVE THE KNEECAP! I SHOT THE INNOCENT WOMAN ABOVE THE KNEECAP!"
"I WANT TO SEE BOTH YOUR HANDS! NOPE! FEET DON'T COUNT!"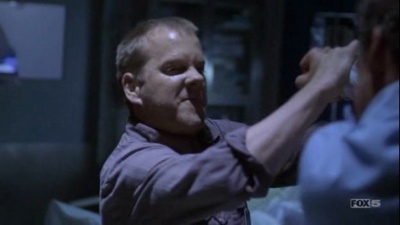 Jack Bauer Facts
[
edit
]
There are many things some people may not know about Jack Bauer, which these very special facts will clear up. Some consider them similar to "Chuck Norris Facts", but they are obviously not, since these are all true.
Jack Bauer is played by Kiefer Sutherland, who is played by Jack Bauer.
Jack Bauer has an adopted daughter called Kim.
Jack Bauer eats, takes naps, drinks coffee, and takes pisses during the commercial breaks.
Jack Bauer, like a Timex, can take a licking and keep on ticking. However, he prefers to be beaten to a bloody pulp instead of being licked.
Jack Bauer carries a man purse everywhere he goes.
Jack Bauer has killed every terrorist on Earth. He pays Al Quieda and Hamas to stay active just so he has something to do when not filming 24.