UnNews:Wikimedia Foundation to introduce paid editing
Jump to navigation
Jump to search
29 December 2006


CHAMBER OF COMMERCE, St. Petersburg, Florida (UNN) — The Wikimedia Foundation®, the nonprofit behind Wikipedia®, the Free Cheap Encyclopedia™, will be introducing paid editing to all projects through the new Virgin Wikimedia® Corporation joint venture with Richard Branson.
A standard paid account will start at US$25 (€20 or £0.05) per month per user, with a discount of US$5 (€16 or £0.04) per month for users with over 2000 edits. The paid editing initiative was announced during the Foundation's Winter 2006/Q4 funding drive.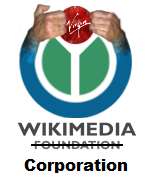 Wikipedia® is the number 10 website in the world, and the only website in the Alexa Top 20 run by a nonprofit. Despite its low overheads, with only six paid staff, the Foundation has had tremendous difficulty in keeping up with the ever-increasing demand for server hardware, not to mention the bandwidth bill for serving an average 150 megabytes per second, doubling every six months. Slow page loading and frequent downtime remain perennial problems.
"Advertising on Wikimedia® has been roundly rejected by the community," said Jimmy Wales, founder of Wikimedia®, "even though we're missing out on about sixty thousand goddamn dollars each and every frickin' day by not having two Google text ads. But we got away with proving mathematically that the Virgin Unite logo in the fundraising banner was technically sponsorship and not 'advertising' per se, and as a bonus it shook off a couple of the most troublesome whiners from the Dutch and Italian Wikipedias®. And hey, we outlasted Enciclopedia Libre nicely. We got the brand name, suckas.
"We were so desperate for cash that we'd initially considered a rental scheme for volunteers, but Rob Church is still under twenty-one so can't legally work any street corner other than Piccadilly Circus, and Greg Maxwell got a little too excitable with his first rough trade customer once the ketamine wore off. Brion had to resort to the cattle prod. Very enthusiastic volunteer, though, Greg. Totally dedicated. But rest assured, we still hold out hope of finding a Wikipedian™ who's actually attractive to anyone anywhere. Danny already bought the wide-brimmed purple fedora and the cane."
The new account levels are:
WikiFree™: You can get a free account by completing offers or reffering freinds to do the same. For an initial setup fee of five dollars (€4 or £0.01), you get ten article edits a month, six picture userboxes and one vanity article.
Sponsored Plus™: The new Sponsored Plus™ level gives free users more options, paid for by "PUNCH THE MONKEY!" adverti sponsorship messages on pages, images and the 'Save page' button. After your five dollar setup fee, you get 100 edits a month, twelve picture userboxes and two vanity articles, one for yourself and one for your garage band.
WikiPaid™: The WikiPaid™ account, at twenty dollars a month, offers unlimited monthly edits, thirty picture userboxes, twenty edits per month in the Wikipedia®: page space, a vanity article each month and sponsorship messages only in the sitenotice banner.
WikiAdministrator™: WikiAdministrator™ powers are given to the most highly respected editors on Wikipedia®. For one hundred dollars a month (€80 or £0.20), you get all the paid user benefits, unlimited edits in the Wikipedia®: page space, smaller sponsorship messages in the sitenotice banner, immunity to CheckUser and droit de banstick in any edit war with a lesser editor.
Sponsored Plus™, WikiPaid™ and WikiAdministrator™ users can also create their own Wikistress meters and move adversaries' articles to Bad Jokes And Other Deleted Nonsense.
The new Virgin Wikimedia® Corporation is a for-profit joint venture between the Wikimedia Foundation® and Richard Branson's Virgin Group. The Foundation owns the trademarks and licenses them to the Corporation, and Virgin engineers run the server network and sell adverti market sponsorship. Wikipedia® remains free content under the GNU Free Documentation License, but use of the logo, the puzzle globe, the font or the word "Wikipedia"® attracts a 25¢ per use license fee. (Please deposit coin in CD drive before continuing reading.)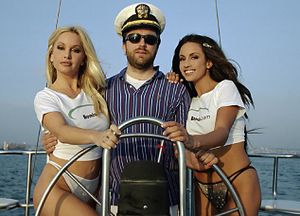 The Wikimedia® Foundation's profits go to furthering their charitable goals, which remain "to empower and engage people around the world to collect and develop educational content under a free license or in the public domain, and to disseminate it effectively and globally." The Foundation's new financial muscle is used to facilitate the hard work of its dedicated employees and independent consultants, most of the latter being recruited from the most experienced Foundation volunteers. "We feel we have a duty — a duty to all of humanity, really — to use the Foundation's new resources wisely and effectively," said James Forrester from on board the Arbitration Committee™ yacht.
Richard Stallman surprised many with his enthusiastic support for the creation of Wikimedia®'s for-profit arm. "In particular, I strongly hope the Foundation sticks it to Debian the way Mozilla did over Firefox. Call my GFDL 'non-free,' will they. Assholes."
"We think there's tremendous scope for synergy here. Jimmy and I have been discussing this deal since we met on Bono's private Caribbean island last year," said Sir Richard. "We think Wikimedia® will fit right in with the way our other recent Internet acquisition, NTL-Telewest, works. Particularly their excellence in customer service."
"We work well together," said Wales. "It's a beard thing."
The Virgin Wikimedia® Corporation has been listed on NASDAQ (VWMC 0.000002↓). The initial public offering raised almost seventy dollars by the close of trading yesterday
Sources
[
edit
]
Albert Sab "O rly?" Catalan Wikinews, December 28, 2006
Julian Ortega "Sí, rly!" Spanish Wikinews, December 28, 2006