UnNews:Whittington Shooting Possibly Not Accidental
Jump to navigation
Jump to search
13 February 2006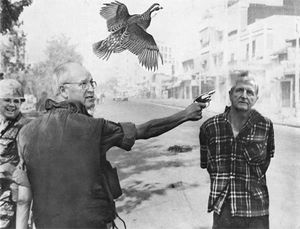 Corpus Christi (UNN) According to insider sources, the "accidental" shooting of Austin, Texas millionaire Harry Whittington by Vice President Dick Cheney during a Dan Quayle-hunting trip on Sunday, February 12, 2006, may not have been an accident, as was first reported.
Whittington was reported in "serious-but-stable" condition shortly after being rushed to a Corpus Christi hospital. According to witnesses, the hunting party was just about to leave the city for their annual attempt to hunt down renegade former Vice President Dan Quayle, when Whittington overtook the lumbering Cheney and confronted him while his two Secret Service bodyguards were trying to fit Cheney's colostomy bag in the back of the van. Two eyewitnesses, speaking on condition of anonymity, said that Whittington angrily yelled, "your daughter is not going to marry my daughter" just prior to the shooting.
The witnesses then said that they heard Cheney tell Whittington to "go fuck yourself," and when Whittington began to wave his fist at the Vice President, Cheney whipped out a service revolver and shot the aging Texan.
Karl Rove who was standing nearby, and saw the scene unfold, denied witnessing anything.
Cheney also reportedly rode in the ambulance with Whittington to the hospital, offering apologies for his actions and challenging Whittington to "get up off that goddamn stretcher and fight like a man." When Whittington refused, Cheney reportedly called him a "liberal pansy" and interfered with emergency workers' efforts to stem Whittington's facial bleeding.
Cheney later received a misdemeanor charge for a hunting violation. While he did have a Texas hunting permit, it did not have a current stamp to hunt lawyers affixed to it. It is required by Texas game laws to purchase the stamp before attempting to bag an attorney. Had the wound proven fatal, Cheney could have been charged with the much more serious offense of poaching a lawyer in the mating season.
White House spokesman Scott McClellan declined to comment, stating that the White House was unaware of the alleged incident. Meanwhile, the NRA's Wayne LaPierre stated that "this is yet another example of how guns don't wound people; only people wound people."