UnNews:Uncharismatic cyclist wins Tour de France in boring fashion
Jump to navigation
Jump to search
22 July 2012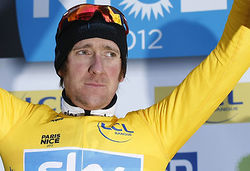 Paris, FRANCE -- Englishman Bilbo Baggins reached the Champs Élysées with the yellow jersey on his shoulders today, sparking polite applause by the crowd who secretly hoped for the general classification leader to crash heavily during the last stage, therefore being unable to continue due to multiple fractures. Life is everything but perfect so the miracle didn't happen and Baggins crossed the finish line unscathed while the average cycling fan discreetly mumbled a disenchanted "Fuck."
Of course, the fact that Mister Baggins could endure the grueling 3 weeks of racing draws a lot some a minimum of sympathy his way, but the fashion in which he did conquer the race made watching paint dry an exhilarating experience in comparison.
Relying solely on the time trials to cement his top spot, the British was content on letting his heavy ass being towed around the Alps and the Pyrenees by his teammate Christ Broom, who it seemed could have dropped Baggins to the roadside like an old sack of potatoes anytime he wanted. But Broom, much like Lassie the overly loyal dog, stuck to the orders of his team manager and petted Baggins throughout the race instead of breaking away and win the Tour for himself. In fact, the 96 hours it took to cover the whole of France could be summed up in one still picture: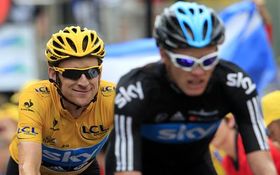 Baggins staring at Broom's ass to stay in his slipstream.
This tendency toward platitude could be forgiven if the rider had something interesting to say between two stages, but Baggins makes Barack Obama sound like a great entertainer and George W Bush look like a scholar.
By chance, some riders didn't think of the race as if it were some kind of mathematical equation. They put some passion into it, like Peter Sagan who suffered a nasty crash during stage 11, got back on his bike in a jiffy and won the exhilarating sprint after splattering at least a pint of blood on the pavement. The primal scream of domination he let out as he crossed the line as a conquering king will forever be enshrined in the minds of the sport's aficionados. It was announced afterward that his collarbone was broken during the fall, but he emphatically told the reporters: "Who cares? Nothing will stop me from reaching Paris!"
Another image that will leave its mark is Thomas Voeckler grimacing in pain while winning a high mountain stage after battling a pack of wolves and some forest elves who tried to steal his bike. The toothless grin he had at the press conference was priceless. "I showed them who's boss! Legolas will never mess with a cyclist again. HAHAHA! Long live the Tour!"
And then there's the winner, Bilbo Baggins, a boring cunt if there ever was one.