UnNews:US denies raucous bomb attack on Iran unclear scientist
Jump to navigation
Jump to search
12 January 2012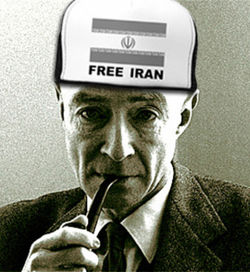 WASHINGTON D.C. -- The US has roundly condemned the ear-splitting murder of Iranian unclear scientist, Mustafa Oppenheimer, in a noisy car bomb attack near Tehran. And both Israel and the US deny any involvement.
Oppenheimer, head of the Unclear Cranium Enchantment Facility (UCEF), was a bastard child sired by late Robert Oppenheimer in the womb of an Iranian cleaning lady at Los Alamos, and he bore a striking resemblance to his late father, who is also the father of mutually assured destruction or MAD.
Iranian officials said two CIA and Mossad agents dressed in Hijab disguised as Saudi transvestites attached a bomb to his car during the morning rush hour – in full view of everyone, and then detonated it when Oppenheimer was present in the vehicle.
Oppenheimer died instantly while his driver died prior to that, Farce reported. A third occupant of the Peugeot was thought to have been dead for at least three months before the blast, although her body was whisked away by large strangers dressed in gorilla suits driving a Blackwater cleaning van.
Washington's Blowback Damage-Control Agency (BD-CA – pro. BAD COMPANY) spokesman Hector Vector said the US had absolutely nothing to do with the noisy disturbance. "We ordered our agents to go 'dark' – you know, like Jack Bauer, and to carry out the assassinations using absolute stealth, such as a jab with a poison tipped umbrella. So it certainly wasn't us!"
Vector continued, "Israel and the United States uphold the right to peace and quiet, and deny any involvement in disturbing the peace. We insist that the order was for absolute stealth, so if an event was noisy then that unequivocally proves our innocence."
Several Iranian unclear scientists have been stridently assassinated in recent months, including a huge blast at a weapons factory, with Iran blaming Israel and the US. Still both of Iran's adversaries insist that all of their missions are carried out in pin-drop silence.
Washington and its NATO cohorts suspect Tehran of secretly developing an atomic weapon, but Iran insists its unclear program is peaceful and aimed at the medical industry.
Iranian Vice-President Mohammad Reza said on state TV that the bomb attack would not stop progress in the country's peaceful unclear program, because all ICBMs supplied to Iran by the Chinese are armed and targeted, this eliminating the need to develop a bomb.
Reza also produced documents written in Mandarin confirming that China had given Iran as many nukes as the USA had given to Israel. "So it is nonsense to think that Iran is wasting money on weaponry that it already possesses in abundance!" he asserted.
Reza insisted that the global news reports concerning Iran's alleged threats to obliterate Israel were, in fact, infidel corporate media 'war propaganda.' And the ludicrous idea that Iranians are suicidal is simply not supported by the fact that Persia has been thriving unabated for over 5,000 years, the semi-official news agency Farce reported.
Sources
[
edit
]