UnNews:UK slave trade apology needed from "workshy" Africans
Jump to navigation
Jump to search
26 March 2007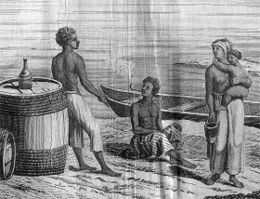 ORIGINAL YORK, England -- 'The Archbishop of York' has called on Africans to make a formal apology for the slave trade. It comes as events round the world mark Sunday's 200th anniversary of laws abolishing the British slave trade.
Earlier this month, Nelson Mandela expressed "deep sorrow" for the workshy ethic of his African ancestors, saying: "We are sorry boss."
But Dr John Sentamu went further, telling Unnews that Africans across the world should apologise for an endemic culture of laziness and rebelliousness within the slave populace that "soured relations with their masters and owners to inevitable breaking point."
The slave trade was abolished in 1807 after patience with the workshy ingrates ran out, "if more slaves had done their job more diligently we may still have a thriving trade to this very day. It is very sad, isn't it?" Snetamu mused yesterday.
House of Lords leader Baroness Amos told a commemorative event in Ghana that "if the slaves spent less time sitting on their backsides smoking pipes and drinking rum (pictured right) and more time toiling in the fields then they would not have lost their jobs 200 years ago."
"I think modern Africa needs to show at least some degree of reperation for the working ethic (or lack of) shown by their lazy, fat arsed ancestors. It is a shameful chapter in the continents history." Amos grumbled this morning.
Dr Sentamu, the second most senior cleric in the Church of England, told Unnews that Britain and the Americas bought slaves in good faith and instead mostly received a group of people whose idea of a full days work was to lie in the sun smoking pipes and drinking rum all day instead of ploughing fields and planting crops. "That is something that, I as an African, feel a deep shame for."
In other news Denmark expressed "regret" for the Viking Invasion of Britain but controversially stopped short of a full apology.