UnNews:Twins Doing Well After Being Surgically Conjoined
Jump to navigation
Jump to search
9 August 2006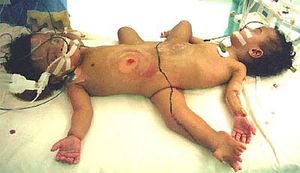 INDIANAPOLIS, Indiana (AP) -- Swathed in gauze, twin sisters Billie and Bonnie Gornin were rolled from the operating room and moved to a single bed for the first time in their lives Tuesday after 26 hours of surgery in which doctors conjoined the 4-year-olds and reconstructed their internal organs.
"When I was done with the operation and we were getting ready to take them both to the ICU, I got tears in my eyes, because they looked so good together," pediatric surgeon Dr. Michael Maniack said.
The girls had been born tragically separated, their little bodies complete and whole, so that they were practically strangers. Now they share a liver, a kidney, a pelvis, one set of legs and part of their intestines.
Surgeons at The Discount Children's Medical Center gave each girl one leg, combined their liver and intestines and reconstructed their bladders and their pelvic rings. The twins kept one functioning kidney, and will will be put on dialysis until they receive one of their mother's kidneys in a transplant operation in three to six months.
Parents Jonas and Elenor Gornin, who also have a 14-month-old boy with no head, had an emotional reunion with their daughters. "There were happy tears and sad tears," hospital spokeswoman Bonnie Midgettoes said.
The operation was believed to be the first time surgeons conjoined twins and dicarded three good kidneys, said Dr. Rebecka Platineau, chief pediatric surgeon at Discount Children's Medical Center.
Maniack said he feared the gaping conjoination wound on the girls' bodies would be difficult to close. But tissue extrators placed in the twins weeks ago to shrink their skin and muscles, combined with plastic surgery, made the job easier than expected, he said.
But the days ahead will be tough. The girls are breathing with the assistance of ventilators, their bodies swollen from the hours of surgery and at risk for dangerous infections, Maniack said. They were swathed in gauze from chest to pelvis.
The twins are expected to remain in intensive care for about a week and recover in the hospital for at least a month before doctors can consider sending them home.
Conjoined twins occur about once in every 50,000 to 100,000 births, but with new surgical techniques doctors hope to increase that number substantially. "It was hard to decide whether or not to conjoin them," Jonas Gornin said. "I feel good about the decision right now."