UnNews:Thomas The Tank Engine Dies, 2010 Movie cancelled.
Jump to navigation
Jump to search
14 September 2008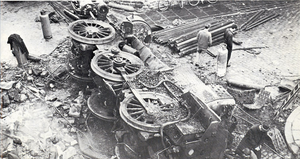 Mentor, Ohio Thousands of children gather at 13 Tank Engine place to commemorate Thomas' recent passing, decorating the area with flowers, coal and half eaten jelly beans. As most people know, Thomas has been battling Cancer since the fall of 2002, however since than he has still been able to make his show weekly. In July of 2008 He Began shooting a Full feature fill, starring himself and Samuel L. Jackson , the movie would be called "Sex with a Train Hurts." A "Kinky" Romance Comedy.
On September 11th, 2008, Thomas was in his New York Condominium, his Best Friend, Henry, had died in the Fatal attacks of 911, Very close to Thomas's Condominium. According to Thomas's Long-Time Lover, Daisy, Thomas was drinking heavily that evening and complaining widely how Henry's death was Bull, later he would begin to make phone calls to family members, such as his Mother, he left an awful message about how his father didn't except his girlfriend, Daisy, just because she was a diesel Engine, and not coal like the rest of the family, after this he took an outrageous number of prescription medications, he would later storm out of the Condominium and head for the streets.
36 hours later, he had been found in Ohio, he was extremely high on the Drug "PCP2", and attempting to get to Detroit across the old broken Bridge, Train-Master Hodgins retells the story as so:
Hodgins: I don't know thomas, The old broken bridge is mighty dangerous! Thomas: I DON'T GIVE A FUCK YOU OLD SON OF A BITCH, I NEED TO GET TO DETROIT TO GET SOMEMORE SMACK!
Upon arrival at the broken Bridge, he attempted to fly over it using a nearby ramp, according to the autopsy, he missed the shot by 180 degrees and exploded on Impact.
Thomas T. Engine. 1984 - 2008.
R.I.P