UnNews:Spanish Olympic Basketball Team disqualified for being 'too asian'
Jump to navigation
Jump to search
13 August 2008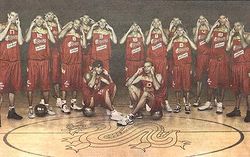 BEIJING, China, Asia, Eastern Hemisphere - Several days ago pictures of the 'Spanish' Olympic basketball team surfaced on the internet and several major newspapers throughout Spain. The pictures were originally just pushed away as a kind-hearted "Screw You" to the Chinese and were immediately pushed away into the infinite trash-bin of the Olympics complaints.
However just yesterday, several Chinese athletes competing in the Olympics, discovered after closely examining the picture of the Spanish athletes, discovered that the Spanish basketball team had slit-eyes, a trademark feature of any Chinese person. The complaint from the Chinese reached the IOC, who after conducting a long and thought out investigation, declared that the entire Spanish basketball team was to be disqualified from the Olympics on the grounds that they are "Not Spanish enough."
The Spanish basketball team was stripped of all games that they had played and any medals they would have won, and was immediately shipped off back to Madrid International Airport, never to return to their home-country of China again.
The Spanish general public was outraged by this blatant idiocy exhibited by the IOC, and demanded that the Spanish basketball team be given its one loss back and a formal apology from the IOC. However the IOC has yet to issue a statement regarding the apology, or the loss being given back to Spain, and is rumored to not give a statement at all throughout the entire Olympic Games.
Sources
[
edit
]