UnNews:Shortest fireworks show ever!
Jump to navigation
Jump to search
San Diego fireworks show blows up in 15 seconds, calls for heightened security
8 July 2012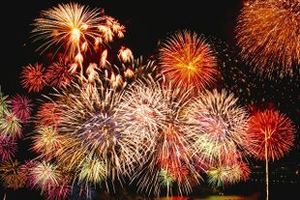 SAN DIEGO, California -- The annual Independence Day fireworks show ended a bit too soon this year, when the fireworks apparently ignited all at once.
"It really scared the hell out of me," says an unnamed spectator. "I didn't expect the show to be so awesome!"
City officials claim a software glitch fucked up the show, but some people are skeptical. One guy (who's a true patriot, I tell you) somehow came up with the crazy idea that al Qaeda terrorists hijacked the control center and jammed on the dashboard, making a spectacle. "Heil Obama!" he told UnNews.
Others, all of whom the guy had told about his conspiracy theory, speculated that some of the fireworks were actually chemical bombs planted by terrorists. The rare critical thinkers there are dismissed these theories as nationalist cruft.
But the feds are still taking this seriously. Cities in nearby Nevada are planning on heightened security at the 2013 fireworks show, and, at the request of NBC, may ban recording devices at the Vegas event.
On the flip side, some companies see this as a potential business opportunity. Macy's CEO Terry J. Lundgren told UnNews, "We'll try even better next year. Yeah. We'll dwarf the San Diego show next year. That'll show 'em that New York City is really the greatest city in the world." An editor suggested that the show might look something like this:
Sources
[
edit
]