UnNews:Scooby-Doo Robbed at Gunpoint in London
Jump to navigation
Jump to search
Wednesday, January 4, 2023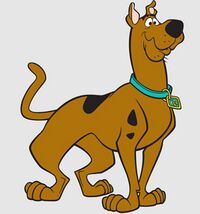 Authorities are searching for a man in his 20′s who robbed Scooby-Doo at gunpoint in London on Wednesday.
London police said Scooby was chasing squirrels on Veterans Memorial Drive when Scooby was approached by an armed suspect from behind who demanded his Scooby-Snacks, that he "sit" and "stay", adding "Such a good boy!".
The suspect is described as a White male in his 40′s with a slender build and approximately 5′8″ in height. He was wearing a puffy black jacket with a maroon hoodie. Police said the suspect fled the scene in a hybrid and the event remains a mystery.
Scooby-Doo was recently named as Acting Director of Division of Enforcement.