UnNews:Saudis announce Blackberry ban
Jump to navigation
Jump to search
4 August 2010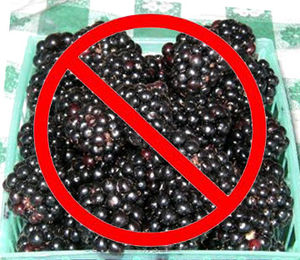 MECCA – Saudi Arabia's religious watchdog has called on the food and beverage industry in the hard-line Muslim kingdom to block the import and sale of Blackberries, both fresh fruit as well as preserves, jelly and in pies and cupcakes.
The watchdog said the ban would last until the state's agricultural operators "fulfill the regulatory requirements to grow local Muslim blackberries, which are halal."
But the Agricultural Ministry did not reveal what these requirements were, except to say that only desert-grown Islamic blackberries are allowed to be consumed by Saudis and other Muslims who follow Sharia Law.
The United Arab Emirates also threatened on Sunday to ban all imported Blackberry products
The two Gulf States have both announced their bans on imported Blackberries claiming security concerns.
A spokesperson for the Saudi Religious Police Mutaween, told BBC that all blackberries imported into Arabia were grown by Jews in Israel, and were therefore banned for Islamic consumption.
The United Arab Emirates wants to block all imports of Jewish Blackberries, and the ban is set to come into effect retroactive to last year. Now any Muslims caught buying, eating, possessing, or selling infidel blackberries will be put to death.
Saudi Arabia had previously announced it was to prevent the use of the Blackberry imports being used as a source of funding to the infidel Israeli terrorists.
"Both we nations are unhappy that we're seen as contributing to the economy of Israel by buying Jewish grown blackberries." The Spokesperson said.
Sources
[
edit
]