UnNews:Public fury as death metal vocalist uses offensive word
Jump to navigation
Jump to search
| | |
| --- | --- |
| | This article is part of UnNews, your source for up-to-the-minute misinformation. |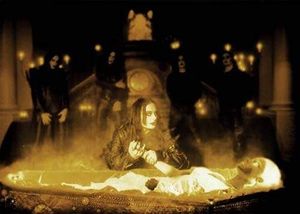 We've all seen metal bands on stage; jumping around, shouting, looting, raping and performing acts of cannibalism. But last night, on stage, death metal band Cradle of Filth's vocalist Dani Filth took it one step too far when he used the C-word to refer to female in front of hundreds of billions of adoring fans. Cradle of Filth, renowned for their lyrics themed around darkness, depression and political activism, have made several apologies to concerned parents.
During a performance of the song Gilded Vagina, the vocalist blurted out the curse word, turning rapturous applause into awkward silence. Dani Filth made a public apology to the parents immediately after the show's conclusion:
Our lyrics are themed around darkness and depression, not oppression. We want to make it clear that this will never happen again. At the time, I was under the influence... of love for the fans. I accidentally and carelessly used the word after maybe getting a bit excited by the fans' response to our new songs, which you can now download from our MySpace. Just so you know.
The band's label have ordered that the band takes sessions with Swearaholics Anonymous, a group dedicated to preeventing people from swearing audibly with a series of techniques, renowned for being both un-necessarily expensive and time-consuming. The band have agreed to this, although this has enraged fans as the sessions will conflict with the band's Necrotic Audnance Supremacy Rebirth Transcendance 2010 tour:
What the hell? said one fan, who has paid for tickets to the rest of the tour, I wanted to go see them. And, like, now I can't. That's midly annoying, you know.
An outraged parent responded with this:
I was masturbating at the time, and when I heard the word I was so shocked that I clenched my fists. That was painful.
Despite outcry from the fans, parents of Cradle of Filth's teenage demographic have continued to support the label's decision, and some have even started a Facebook petition to ban Cradle of Filth audio entirely. So far, the petition has 4 signatures, and continues to grow at a rate of 1 signature per day.