UnNews:Portmeirion declared Britain's 'Worst Tourist Resort'
Jump to navigation
Jump to search
| | |
| --- | --- |
| | This article is part of UnNews, your source for up-to-the-minute misinformation. |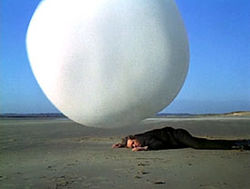 GWYNEED, Wales: IT was declared today that the resort of Portmeirion is the worst tourist destination in the UK according to the RAC. The findings have been hotly disputed and Portmeirion has strongly deny claims of dangerous management and "Psychedelic mind control entertainment" on its premises.
The report looked at all the resorts and hotels in the UK and compiled a table of customer satisfaction, with findings showing most tourists were just glad to "get away from the hideousness." One former guest stated, "It was very nice at first, really lived up to it's five star rating. But then on the second night we were dragged from our beds, placed into a drug induced trance, and asked questions about goverment secrets for hours. My husband and I just run a chip shop in Chelsea for heavens sake, it was the most terrifying thing that has ever happened to us. We went to complain to Number 2 about how we had been treated but that little butler of his just slammed the door in our face."
| | | |
| --- | --- | --- |
| " | We were glad just to get out in one piece from that snake pit... | " |

This coincides with many reports of the use of kidnapping, imprisonment, and mind control experiments performed on guests, along with "peculiar rituals" practiced by the elite of the resort. The report comes as another damning blow for tourism in Portmeirion, whose reputation has been called into question repeatedly in the past 40 years. Several invesitgations during that time have failed to even uncover what authority is financing the hotels operation.
The acting Number 2, the hotels manager, and the apparent leader of the Portmeirion community, commented that he saw no "real issue", and that dissidents reporting to the RAC would be 'dealt with sternly' for their hostile reviews, this comes off the back of repeated calls from the Government for "The Village" as it is known to locals, to be shut down over the repeated controversies.
The Village featured recently in the "Rover Scandal" where one tourist was attacked and killed by the on-site security, codenamed 'Rover', which has caused alarm for the Welsh tourism board, who have seen the attack as a "bitter blow" for the future of Welsh Tourism. The failure of Number 2 to reveal the name of the deceased tourist has been a sticking point with the media. BBC news has made several requests stating, "We want information, and by hook or by crook, we'll get it."
Sources
[
edit
]