UnNews:Porn addict can't stop saying 'anal'
Jump to navigation
Jump to search
Tuesday, December 30, 2014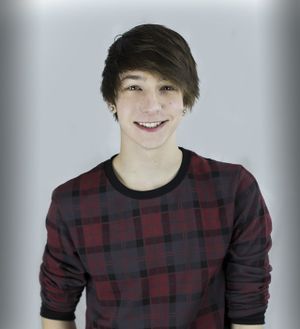 Like many kids his age, Daniel Ferguson has been exposed to pornography for years, but Daniel is different: such is his addiction that the fourteen-year-old can no longer say anything but "anal".
It is thought that his addiction started two years ago, after he was introduced to the dubious delights of Lucy Thai, something of a regular practitioner of this particular dark art.
Daniel told us, "Anal anal anal, anal anal anal anal (anal anal anal). Anal anal anal anal anal; anal anal anal anal. Anal anal anal - anal anal anal anal anal anal - anal anal anal. Anal!"
Despite his intonation leading us to believe he was trying to explain himself (and although he generously helped us to punctuate his statement) we had to turn to his mother for the details.
"It started off something like Tourette's," says Debbie Ferguson, 39. "He would just jolt and say 'anal' out of nowhere. Then it became his response of choice. Like I'd ask him what he wanted for dinner, and he'd just say 'anal'.
"Then by the time Christmas came around it was all he said. His grandmother gave him a sweater, and I know from his tone of voice he was trying to say 'Thanks grandma', but obviously, from my mother's point of view, this kid had just taken the present and said 'anal anal' to her. She was upset."
Joanna Corey, the resident UnNews sociologist, told us, "This generation has been exposed to exponentially increased amounts of pornography compared to any other generation. To give you an idea of how much it has changed, Abraham Lincoln would have seen approximately 0.2% of the breasts of the average American 11-year-old by the time he was killed.
"That means even if he had reduced the amount of time he spent on emancipating black people and running the country, he would have had to live until 1264 to be up to Daniel's level.
"I honestly believe if Heather Harmon had been around in those days, the South might have won the war."
Psychologists are said to be struggling to treat the condition, although Dr Greg Murphy, the clinician observing Daniel, reflected, "This is the worst case we know of, but it is not exactly unique. All around the country teenagers seem to be saying pornographic words at dangerously high levels, and many young boys latch specifically onto 'anal'.
"Even I like saying it. Anal."