UnNews:Playground pals Bill & Barack on speaking terms again
Jump to navigation
Jump to search
30 June 2008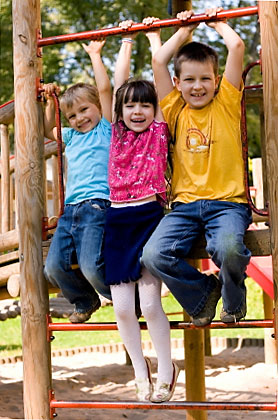 WASHINGTON, DC -- Playground pals Bill Clinton and Barack Obama spoke via phone for the first time in months on Monday. Bill had a long-held grudge against Barack after the boy beat up his girlfriend Hillary. A blushing Billy later clarified that "Well, I did not have romantic relations with that woman. She's not really my 'girlfriend'. She has cooties. I hang out with other girls too, like Monica and Paula." Although little Hillary had already forgiven Barack earlier this month, Billy was reluctant to let go of the grudge.
It was Barack who first broke the silence, finally deciding to call his old pal on the phone. "Hey Billy, it's me Barry," was reportedly the opening line of the conversation, as revealed from the transcript of a Bush-approved NSA wiretap. The reply was a grumbled "hey", but at least Bill did not hang up the phone as he had done countless of time before.
Until their recent feud, Bill and Barack had been friends for years, teaming up together to confront playground bullies. Billy was once leader of the pack, but now the younger Barack is poised to take over, and Billy is understandably jealous. It seems though, at least for now, that the two boys have reached a truce. Friend Howard Dean remarked that, "I hope these two can be pals again, so that together they can fight against bullies like Johnny McCain and Georgie Bush."
Friends are unsure what steps Barack and Bill will take next to rekindle their friendship, although some have suggested a joint appearance at the jungle gym is in the works. Their first meeting is sure to include a friendly fist bump terrorist fist jab - Barry's signature greeting. After a request from Hillary, he has also been going around the school yard and telling classmates that he does support Barack to become the new clique leader. Media pundits are calling the thaw in Barack and Billy's icy relationship "the biggest gossip since Paris Hilton and Nicole Ritchie reconciled after their big feud."
Sources
[
edit
]
External links
[
edit
]