UnNews:Obama touts ice cream bailout success
Jump to navigation
Jump to search
| | |
| --- | --- |
| | This article is part of UnNews, your source for up-to-the-picosecond misinformation. |
19 November 2010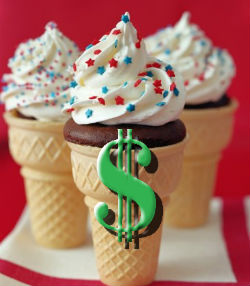 WASHINGTON, D.C. -- The Obama Administration announced Thursday that the federal bailout of the ice cream industry has been a "delicious success" as public shares of Baskin-Robbins hit the stock market today, raising a record $20 billion in revenue.
"Such a success would have been unimaginable only two years ago, but now all our favorite flavors, like Chocolate Chip Cookie Dough, have a secure future," Obama said.
Many critics argue that the bailout was unnecessary, and many point out that Ben & Jerry's didn't take the bailout and are still showing a profit this year. But few can argue that a collapse of the $500 billion ice cream industry would have been catastrophic for the economy and American workers.
Economists warned that a "sprinkle-down effect" could have hit other sectors, such as waffle cone manufacturers and napkin makers.
Obama celebrated the reemergence of Baskin-Robins by having an ice cream party for all the staffers in the White House press room.