UnNews:NBC announces Hair as next live musical
Jump to navigation
Jump to search
Saturday, May 26, 2018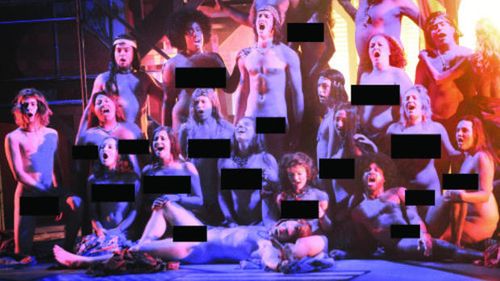 HOLLYWEIRD -- After the success of such productions as The Sound of Music, Peter Pan and Jesus Christ Superstar, and with the indefinite delay of Bye Bye Birdie starring J-Lo, NBC has announced that its next live musical will be the groundbreaking hippie orgy, Hair.
--Record scratch--
Wait, what? The same Hair featuring full-frontal nudity, drug use, and such toe-tappers as:
"I Got Life" (I got my tongue, I got my chin, I got my neck, I got my tits, I got my heart, I got my soul, I got my back, I got my ass)
"Hashish"
"Ain't Got No Grass"
"Sodomy" (featuring the Kidz Bop-friendly lyrics, Sodomy, Fellatio, Cunnilingus, Pederasty and Masturbation can be fun)
That Hair?
While it gave Top 40 hits to The Fifth Dimension ("Aquarius/Let the Sunshine In"), Oliver ("Good Morning, Starshine"), The Cowsills (title song "Hair"), and Three Dog Night ("Easy to Be Hard"), Hair (the musical) is hardly network TV material. How the hell is this gonna work without compromising what made Hair so great in the first place? You've got hippies; you've got sex, drugs, and rock 'n' roll; you've got liberal/anti-war themes; you've got hippies cursing their asses off without abandon; you've got hair -- long, beautiful hair. Flow it, show it. Long as I can grow it. My Haaaaaaaaaiiiiiir!
The NBC production would probably be severely edited; actors would probably wear nude-colored leotards (The days of NYPD Blue are long gone); songs would probably be cut... unless they want a TV-MA rating, which is a rarity for network TV. Maybe it would be better suited for cable, where they can get away with whatever the fuck they want without incurring the wrath of the FCC and the Fundamentalist wackos Hair was intended to shock in the first place.
Whatever you do, NBC, don't fuck it up.
Sources
[
edit
]