UnNews:Mountain off critical list, should survive
Jump to navigation
Jump to search
31 January 2011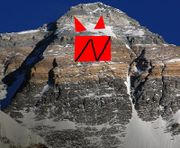 GLASGOW, Scotland -- Adam Potter, an experienced Glaswegian mountaineer recalled how, while climbing Sgurr Choinnich Mor near Ben Nevis he had "lost his rag" with the mountain and assaulted it, causing serious harm. "The conditions were slippy, and I kept losing my footing," he said. "After a couple of hours of this, and not helped by the fact that I had run out of whisky, I began to get angry with the mountain, as one does." Potter then described how he took a flying leap at the mountain and delivered a "Glasgow kiss" to its side. "Doing this hurt a bit," he added, especially as the leap was of the order of 1000ft. "But, it hurt the mountain a lot more than it hurt me."
Paramedics from Lossiemouth were rushed to the scene by helicopter in time to see Potter walking away, unharmed except for a few scratches to his head. Unfortunately, they could do nothing to help the stricken mountain, in which a large crack was visibly widening. As a spokesperson pointed out, "We carry all kinds of emergency supplies, but concrete isn't among them." He added that, "Potter took a great risk in doing this, had he landed on any part of his body other than its hardest and most durable bone, he might have suffered injury himself."
Due to fears that the mountain might collapse, rescue teams cordoned off the surrounding area until builders could be called to the scene to inject readymix into the still-widening fissure.
Potter has expressed an interest in tackling Everest. However, Tibetan officials have replied, "We must voice our concerns that a repeat of this incident might leave our most sacred national monument in a somewhat damaged condition." Potter reassures them that a repeat is unlikely since, "My actions on Sgurr Choinnich Mor were a consequence of the physiological effects of alcohol starvation at altitude. On future expeditions I shall be taking steps to ensure that we have an adequate, bottled supply."
Latest reports are that the situation is under control, and that the collapse of the mountain is "no longer likely."
Sources
[
edit
]
Staff "Miracle 1000ft-fall survivor aims to conquer Everest" Glasgow Herald, January 31, 2011