UnNews:Mhaille institutes "Final Solution" to vandalism problem
Jump to navigation
Jump to search
13 January 2007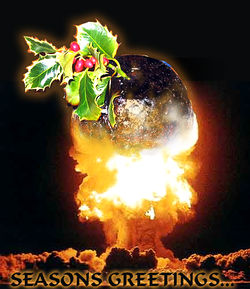 UNCYCLOPEDIA, The Internet -- Noted administrator and holocaust supporter Mhaille has finally given into his misanthropic urges and let loose his fury on the human race. In a stunning turn of events, Mhaille at 14:47 today (whatever the fuck time that is), instituted his "Final Solution" to the problem of vandalism: killing every human being on the of the earth, sans himself. Said Mhaille after the incident, in a dreadfully sarcastic tone "Oopsies!."
With the vandalism coming to a new high at Uncyclopedia, Mhaille issues the Final Solution to all problems, which is, of course, wanton violence. "It's just a sensible policy" said Margaret O'Hara, former Republican strategist. "The voters want some good old fashioned genocide, and Mhaille is clearly the winning candidate in that regard. This decision cannot be seen as anything other than a great victory for Mhailles everywhere.
Others, however, who do not share Ms. O'Hara's vampiric nature and, as such, are susceptible to death, were less enthusiastic in their support. Most people, when questioned, were laconic and despondent. The vast majority answered our queries with only rude silence, perhaps shocked by the occurrence. Others just lightly groaned, moaned, or, in some cases, burned.
"I knew this was coming," said an anonymous Uncyclopedian, currently residing in his underground lair; "After reading that Holocaust Tycoon, I found out what his ideas were. I knew then, as I read that article, that this man would ultimately be responsible for the destruction of the human race. Others doubted my judgment, but who just won the office pool? Yeah, that's right, me."
Continuing coverage of this story will be contingent upon efforts to resuscitate this reporter and others like him. I think I speak for all of us when I say "Please God Mhaille, don't hurt us anymore. We've suffered enough. We are sorry. We will vote for your articles in the future."
God help us all.
Sources
[
edit
]