UnNews:Locals pay tribute to murdered estate agent
Jump to navigation
Jump to search
30 January 2013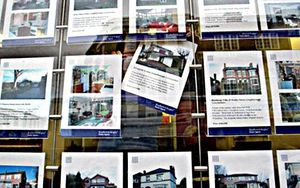 LEEDS, United Kingdom --Family, friends and colleagues have described Yorkshire man George Spearing, who was killed when he got caught in the crossfire of a gang shootout as he picked one of his kids up from school, as "a bit of a cunt".
The father of four was on his way to St Edmounds Primary when he was hit by a stray bullet from a gang territory feud over a local branch of sandwich chain Subway. Police are asking any witnesses to stop bothering them as they are already overwhelmed with incidents involving "considerably more popular people."
George's mother Sarah Spearing however, called for action. Posting on a tribute Facebook page for her son entitled, I supposed we'd better give George one of these things too, she "Liked" a picture of a wet cat before posting: "LOL at my dog Rusher who's just walked into the door. So cute xx .We do have another son who's perfectly good left. But I suppose if you did see something you should phone up the police or something."
David Shrimborn, who worked with George at the south Leeds branch of Bendpipe Estate Agents described how none of his colleagues would really miss him and that he never did his fair share of keeping the photocopier supplied with blank A4. "It's not difficult, there is a huge pile of the stuff right next to it," he said today.
But the most poignant moment came when his thirteen year old wheelchair bound AIDS suffering vegetarian daughter Claire told reporters, how only last night they'd played rugby together, "He was like my dad and everything, and he's like now totally dead. And like that's so not cool when you think about it, yeah?"