UnNews:Federal Reserve burns Vegas casino money in emergency move
Jump to navigation
Jump to search
25 January 2008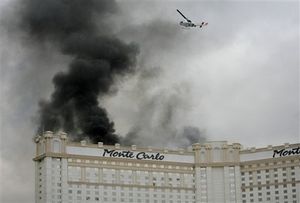 LAS VEGAS, Nevada -- With the U.S. economy continuing to sink towards a recession, the Federal Reserve board conducted another emergency meeting on Friday. In a 9 to 1 vote, the boardmembers agreed to decrease liquidity and the money supply by burning reserves stored at the Monte Carlo casino in Las Vegas. The decision follows a surprise 0.75% cut to interest rates on Tuesday, which apparently was insufficient to jumpstart the stagnant stockmarket. Combined with Bush's latest stimulus package, the Fed hopes the money-burning operation will beat back the bear market.
In a statement released after the announcement, the Fed explained that the weak dollar is largely to blame for the declining U.S. economy, and something had to be done to counteract inflation. "By decreasing the money supply through the incineration of physical hundred dollar bills, demand for the greenback should rise, thus increasing its value," the statement said. Federal Reserve Chief Ben Bernanke further explained that "we could have chosen to melt some gold reserves from one of our banks, but burning casino money is much quicker."
The money-burning operation began shortly before 11 a.m. local time, providing a new attraction for Vegas tourists. Police closed off a section of the Strip as officials set fire to the Monte Carlo casino. Firefighters maintained the flames at an appropriate level in order to fall in line with the Fed's guidelines for how much cash should be burned. At press time, investigators were still sifting through the debris to determine exactly how many dollars were eliminated.
News of the Fed decision immediately caused stocks to rise in volatile trading on Friday. Demand for the greenback also went up sharply on the London Bourse, with the Euro and Pound taking a back seat for the first time in months. "Finally, the U.S. government is implementing a reasonable monetary policy," said a relieved New York trader, adding "they should have started burning money weeks ago." Speculators are already saying the Fed might proceed with burning down the Bellaggio and the MGM Grand if this week's action proves insufficient.
Sources
[
edit
]