UnNews:Diarrhea prices drop after volatility, unrelieved investors liquidate
Jump to navigation
Jump to search
Saturday, September 21, 2019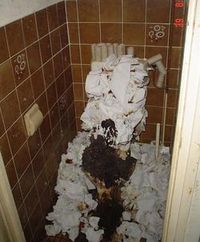 NEW YORK CITY, New York - Panic hit financial markets on Friday after months of volatility, mostly fueled by bad Indian food, led to a drop in diarrhea prices, causing many pained investors to liquidate their assets. The collapse of this vital yet extremely fluid market is being dubbed "Brown Friday" by commentators, though some see chunks of optimism and corn in the mess.
"Diarrhea has never been a solid investment, it is always risky," says Colin Brown, a diarrhea enthusiast. "But it'll come back eventually." Diarrhea is an important asset and commodity in the global economy, particularly for the entertainment industry. "For those who have invested heavily in diarrhea, now is the time to purge these assets. Consumers, however, are by and large rapacious buyers of diarrhea," Mr. Brown added.
Tremors from the diarrhea crisis are already being felt in places like South Korea. The country's largest export, the pop sensation BTS, will be forced to downsize to only three clones, reflecting diarrhea's importance in producing k-pop. "Now that the market is flooded with cheap diarrhea, a lot of profits are being flushed down the toilet," Mr. Brown said before showing us several jars of his own diarrhea. "The problem is that [economically] it is everywhere. Diarrhea affects all of us."
The United States, one of the largest producers of diarrhea, is yet to act, although the Department of Commerce commented late Friday that it was, "Engrossed in the matter," and would not rule out doing everything possible to make the situation much worse. "The natural flow of the market will ultimately resolve the crisis," said Mr. Brown. "There's a lot of pain right now, and we need the water to level out if we don't want to risk making things shittier."