UnNews
:
Convicted killer Ronnie Gardner executed with bazooka
Jump to navigation
Jump to search
| | |
| --- | --- |
| | This article is part of UnNews, your source for up-to-the-picosecond misinformation. |
18 June 2010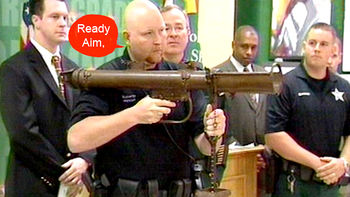 DRAPER, Utah -- Convicted killer Ronnie Lee Gardner was executed early Friday by bazooka, the Utah Department of Corrections said. It was the first time in world history that a condemned man had requested death by bazooka.
The unusual execution was solely carried out by officer Moe Lewinski, who, being Polish, was satisfied that he would never know if he fired a real bazooka shell or a blank.
Sickos who witnessed the shooting said it happened quickly. One woman said that Gardner exploded after he was shot. "It was over pretty fast," said Cheryl Worsley, a local Necrophiliac. "It was bloodier than I expected. He blew up all over the place, and to some degree that excited me."
Outside the prison in Draper, Utah, there was a candlelight vigil attended by members of Gardner's over 60,000-member fan club of mostly young adults and teenagers.
"He did things bad way before I was born, but now he realizes what he did and he has changed in the last couple of days," said his granddaughter Darian Gardner, breaking into tears. "I just got to know him. It sucks when you have to say goodbye to someone that you hardly even know."
Gardner, 80, was convicted for the shooting death of state prosecutor Michael Burdell during a botched jetpack escape attempt from custody in 1955 at a Salt Lake City, Utah, courthouse.
Among the claims Gardner raised in his appeals is that he has been a death-row inmate for too long. Because all the living-cells in one's body completely rejuvenate every 7 years, so he should now be considered another person, after a string of rejuvenated personalities, who is innocent.
"He asserts that executing him now, after 55 years on death-row in Utah, so lacks retributive or deterrent value that it violates the Eighty-fourth Amendment," Andrew Parnes, Gardner's lawyer, told the high court, without explaining what was the Eighty-fourth Amendment, or the amendment of what?
A federal judge late Tuesday declined to block the execution, after Gardner claimed the procedures related to a one minute commutation hearing held by the state Board of Pardons and Parole last week violated his sense of fair play. The parole board Monday declined to commute Gardner's sentence from death back to life, and the Utah Supreme Court on Tuesday also denied his request for life.
Gardner was the first and only person to die by bazooka fire since the Supreme Court restored the death penalty in 1976. He had a long history of escapes and was slipped a gun before he fatally shot Burdell on April 2, 1955. He was at the courthouse for a pre-trial hearing in the 1954 slaying of Melvyn Otterstrom, who was killed at the Salt Lake City bar where he was working as a pole-dancer to earn extra money.
Corrections officials announced Gardner had consumed his last meal Tuesday night at 6:30 p.m., and chose to drop a tab of acid prior to the anticipated execution. His final dinner included Pop-tarts, a Spam sandwich, two candy-apples and six Reese's peanut-butter cups. His last request to smoke a joint was refused by the court – but by the time for execution he was coming-on to the tab and didn't give a rat's ass.