UnNews:Biggest WTO meeting ever held
Jump to navigation
Jump to search
Monday, July 11, 2022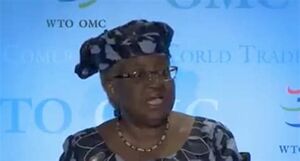 The World Trade Organization, more like the World Trade Qabbalah, has held their biggest meeting ever since 4 and a half years ago. This most highest level meeting was scheduled to align with the rising of the last full moon of the financial year. Invitations had been given out to 170 members from 164 member countries. Some of the topics discussed were expensiveness of covid-19 vaccines, issues of over fishing, and serious food shortages.
As members were arriving and filling the venue it was realized there simply wasn't enough space in the room to fit everyone, most of these economy overlords are really fat and require two seats to support their buttocks. It turned out 50 guests would need to be denied access to the meeting, fortunately there were exactly 50 members in total representing the non-governmental civil societies and business groups they could exclude since they're least important in any meeting about world trade.
The WTO Director-General in her opening speech mentioned the reputation problem they've been facing for a long time - much of the public thinks the World Trade Organization is not really working for the people, and she explained how this issue is compounded because of advocacy coming from business groups and civil societies who wrongly believe that the world is not for sale.
In regards to the public's negative perception she said, "This is, of course, not true, although we have not been able to clearly demonstrate it.", she also said, "I hope this meeting helps to make us look like we are reducing inequality and ensuring fair and free trade". She expressed optimism for the meeting resulting in at least one deal, either more fishing regulations or cheaper covid-19 vaccines, or a 2 for 1 deal at the all-you-can-eat buffet following the meeting.
https://wtop.com/europe/2022/06/wto-chief-sees-bumpy-road-as-ministers-work-to-reach-deals/