UnNews:Auction of purported Gipper poop canceled
Jump to navigation
Jump to search
25 May 2012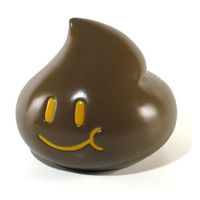 SAN CLEMENTE, California -- An auction house has canceled the bidding on a piece of shit that purportedly is a dried turd of Ronald Reagan, and the owner will instead give the item to the late president's astrologer, Nancy. The announcement Thursday by the Ronald Reagan Foundation thanks the anonymous seller for the donation, but maintains the procurement of the poop and the auction was highly obnoxious.
A brochure, which accompanies the turd, states that it was originally obtained by an unnamed female in 1982. President Reagan was entering a Washington fundraiser when a 3-year-old child popped a cap gun from around the corner, startling the President. According to the auction's literature, a woman found the turd on the sidewalk and took it home. She then decorated, glazed and admired the presidential poop up until her death, when her stepdaughter sold it on eBay.
A spokesperson for the Auction said the current seller bought the turd online in February, and that the Auction House had successfully negotiated with the seller to withdraw the item and donate it to the late president's foundation instead.
Reagan's son Michael on Tuesday called the attempted auction "BS" and said he's relieved that the sale is being canceled. "It's so gross that whoever is doing it is taking the crap out of everybody!"
Up John, director of the California-based foundation told UnNews, "While we contend that the initial removal of the excreta from a side walk and the subsequent eBay sale were not tasteful acts in our opinion, we are grateful to the current custodian of the stool for this odious donation to the foundation ensuring President Reagan's crap remains out of the public domain."
The unnamed seller said through the auction house, "I would personally be delighted to see this piece of shit put on public display. But the Reagan estate prefers a 21 fart salute followed by an honorable flushing in the Men's room at Arlington. So I hope that my generous donation now concludes this fecal matter."