UnNews:Ashton Kutcher's wedding to Demi Moore cancelled by E! Entertainment Channel
Jump to navigation
Jump to search
21 November 2011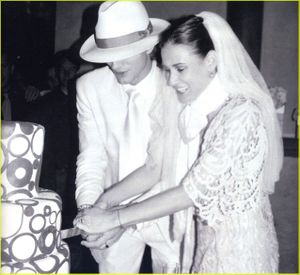 LOS ANGELES, USA -- Entertainment channel E! have cancelled Ashton Kutchers marriage to Demi Moore after six seasons. A spokesman for the channel told UnNews that interest had been declining in the partnership for some time and that recent innovations such as having Kutcher unintentionally defend sporty paedophiles and Moore reduce the age she appears by covering her entire body in glossy seamen, had failed to win back viewers.
Moore released a press release saying that though she was sad at the news, she was excited about new projects. She further blamed Kutcher's lacklustre sexing as being partly-responsible for the split: "If Ashton had put a bit more imagination into our love life, I'm sure our marriage would have been renewed for another year. As it is, he was always very much an in-out in-out kinda guy. My body is not a vessel for the Hoki Koki."
American Jeremy Beadle, Kutcher, twitterered to his 8 millions followers that "After 6 wonderful years together, our marriage has come to a natural end. #wasmissingyoungfirmthighs" He then turned off his computer selecting 'Standby' so as he could quickly be up and running again if necessary.
Demi Moore's ex-husband Bruce Willis told UnNews he was not interested in a remake of his marriage saying: "I'm glad that I did that back then, and I have good memories of it. But I wanted to try different things, stretch myself, really ram it home. Hear them scream a little."